The Pescatarian Meal Plan
Best of the Sea, Best of the Soil
Wild-caught or sustainably sourced seafood & organic fresh produce
Keep It Clean 'N' Easy
Cook delicious, plant-forward & seafood-smattered meals with ease
There's Plenty of Fish in Our Sea
Choose any recipe on the menu, pescatarian or otherwise
Pescatarian Meals Delivered to Your Door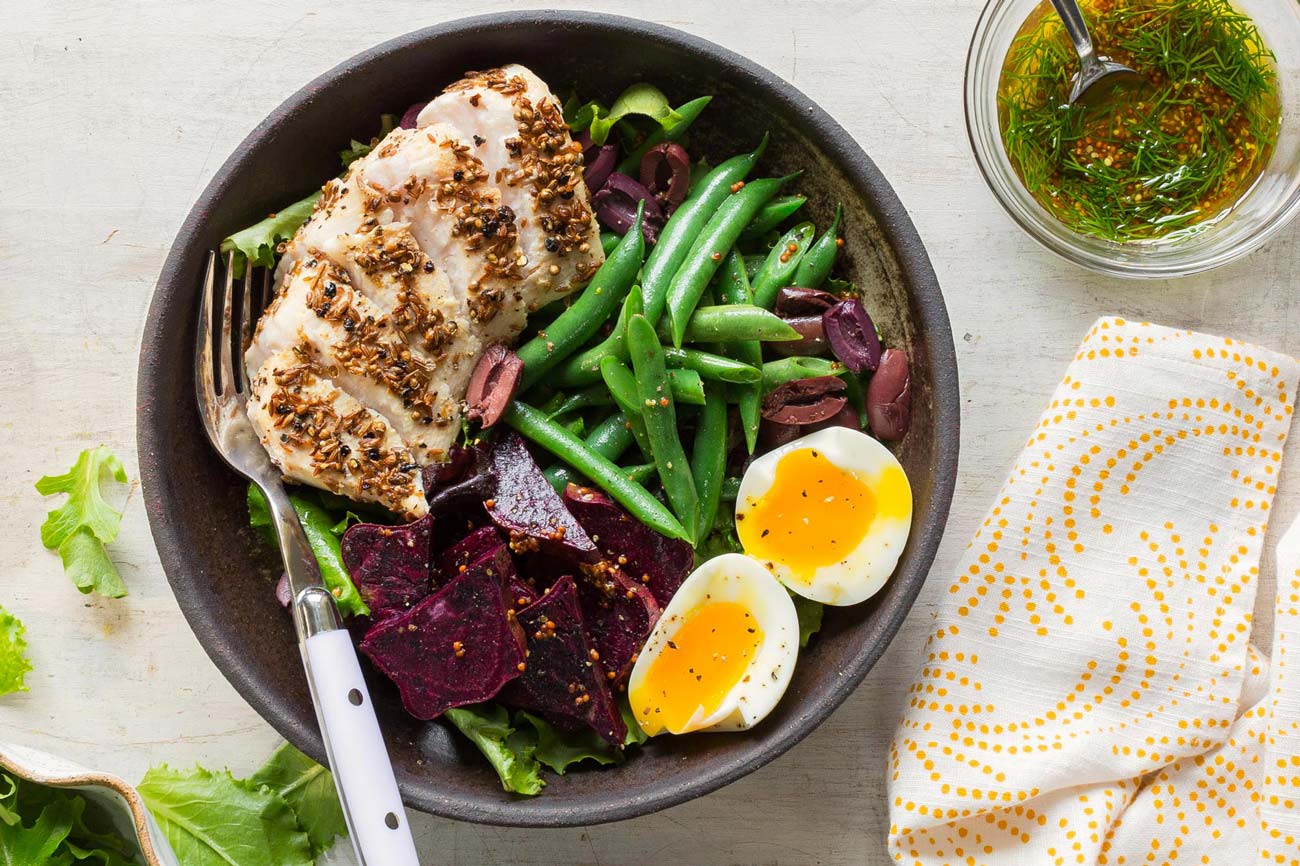 Only the Freshest
We strive to source organic fresh produce 100% of the time Learn More ›
Sustainable Seafood
We make sourcing decisions based on Monterey Bay Aquarium Seafood Watch®
Hand-Crafted Sauces and Hand-Picked Spices
Bursting with flavors that span the globe and rock your world
Recipes for Success
All recipes are developed by our award-winning chefs, so the deliciousness never ends
Pescatarian Meal Plan Nutritional Info
Sunbasket's Pescatarian meal plan is a matchless balance of healthy and delicious to keep you satisfied and stoked. Plus, every meal comes with the approval of our in-house dietitians, so you know you're gonna be good to go.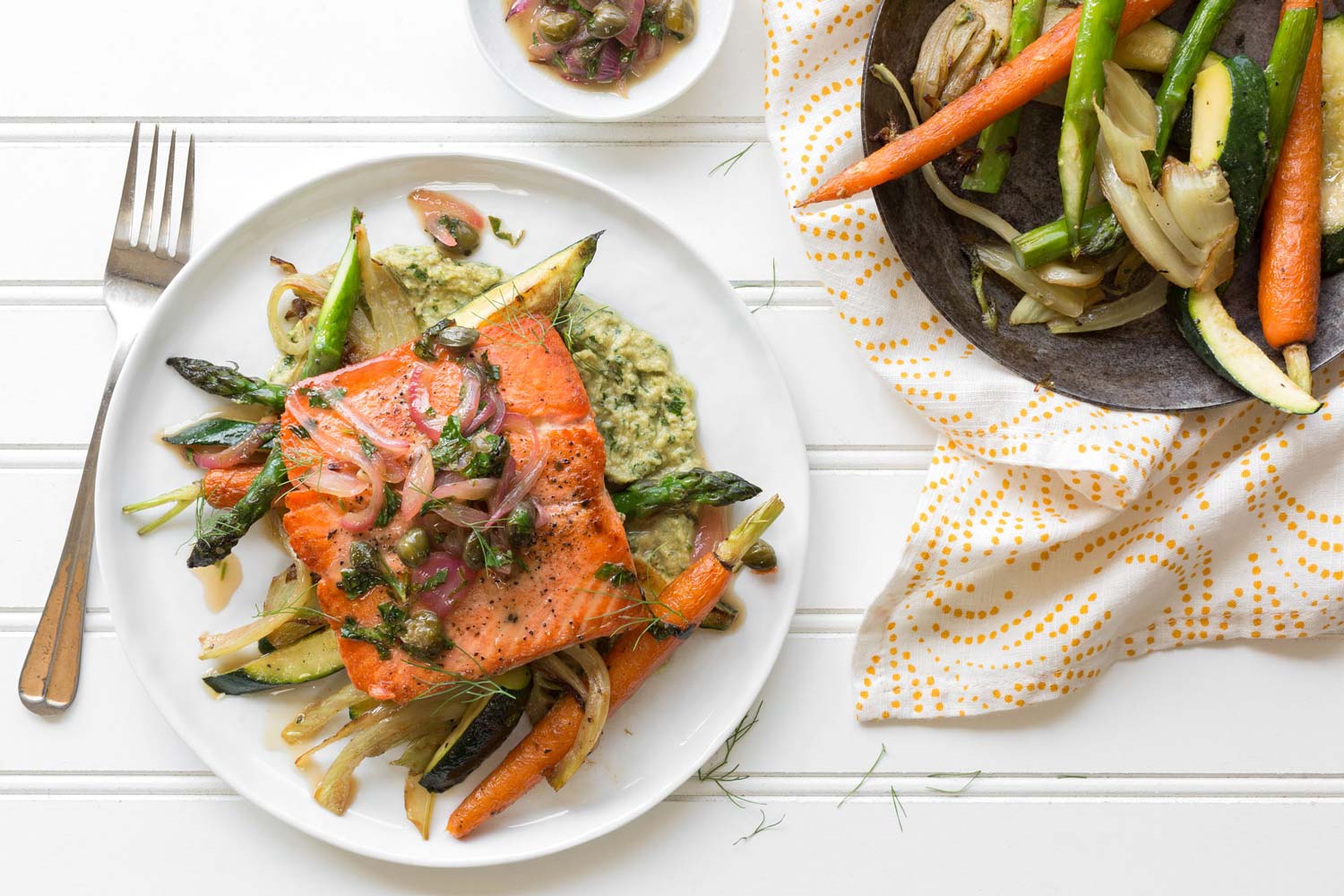 Portion Paradise: About 400-800 calories per serving
Protein Packed: At least 10 grams protein
High-Fibe!: At least 5 grams per serving
Good Fats: Good fats sourced from olives, nuts, seeds, and avocados and seafood full of omega-3s
Frequently Asked Questions
Learn More About The Pescatarian Diet
Health Benefits of a Pescatarian Diet
There's (nutritional) gold in them-there krills! Low in saturated fat and high in good minerals and essential omega-3 fatty acids, seafood is a nutrient-rich protein. Followers of a pescatarian diet reap the benefits of a plant-filled vegetarian diet with the added benefit of the nutrient powerhouses of the sea. It's like a 2-for-1 (seafood) special. Studies have shown that those who consume vegetarian and pescatarian diets have a lowered incidence of chronic disease and live longer, healthier lives.
Building an Ideal Pescatarian Meal
Think of your plate like a pie chart (but hold the pie...nice try, you!): An ideal pescatarian meal starts with 50% of your plate composed of greens or vegetables, 25% seafood or plant protein, and the remaining 25% made up of whole grains or starchy vegetables for complex carbs. (Be sure to use good, plant-based fats for cooking, like olive, avocado, or nut oils.) Now that's a pie that's tasty and good for you!
Saving the Whales Isn't Just for Hippies: The Importance of Sustainable Seafood
Sourcing and cooking with sustainable seafood isn't some passing trend or activist cry: It's essential for the health of our oceans and our planet. Overfishing and irresponsible fishery practices have led to significant collapses of major seafood populations globally. The decline of any marine species may cause other populations to skyrocket or plummet, depending on their place in the food chain. As a result, our ocean ecosystems can fail, driving down availability of viable seafood options. It's hip to be fair!
How to Find Quality Seafood
We'll be the first to admit it: Finding quality, sustainable seafood can be difficult. But arming yourself with knowledge as well as the right tools can make it a heck of a lot easier. We recommend following the seafood recommendations published by The Monterey Bay Aquarium Seafood Watch® program. Responsibly sourced seafood will always taste better, be healthier, and benefit the environment. Nothing fishy about that!