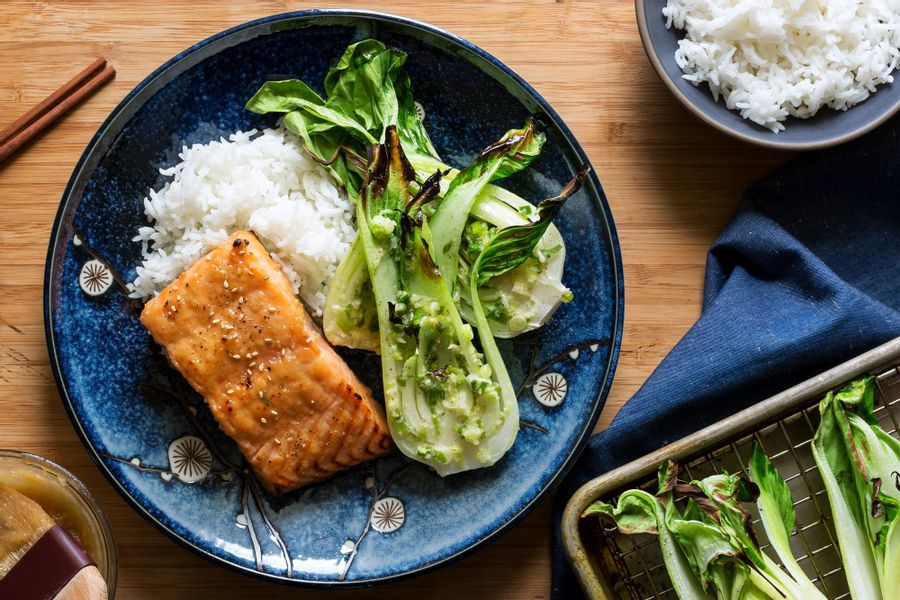 Salmon Skin Makes You Smarter, Stronger, and Better Looking. Did We Mention That it Tastes Like Bacon?
Many Sun Basket salmon fillets come with their skin intact. One reason is that skin-on salmon is easier to cook. The skin helps hold the meat together and it's less likely to break apart when you lift it from the pan. But salmon skin is also delicious and loaded to the gills with good-for-you fatty acids. While farmed salmon may contain unhealthy levels of PCBs, the skin on our wild salmon from Alaska's Yukon river is something you should definitely be eating. Order our Miso-glazed roasted salmon with bok choy and jasmine rice now to be delivered the week of April 13th to discover why you definitely want some skin in the your game.
Brains
Omega-3's: salmon skin is packed with them. These superstar fatty acids offer plenty of health benefits, from easing the effects of depression, to helping infant brain development, to improving eyesight, to warding off dementia and heart disease. And because salmon's fat is in the layer just below the skin, when you cook a filet with the skin on, it soaks up more of this healthy fat. The skin is also rich in many B vitamins, which offer a host of benefits, including mood stabilization and stimulation of blood flow to the brain.

Beauty
Especially rich in connective tissue, with one-third collagen by weight, salmon skin is wonderful for our own skin health and elasticity. And those omega-3 fatty acids and B vitamins don't just stop in the brain. B vitamins help regulate metabolism. Niacin, in particular, makes it easier for the skin to maintain its moisture, leaving it smoother and addressing any imbalances. And the omega-3's anti-inflammatory properties can help reduce outbreaks of acne.

Muscles and bones
In addition to all those good-for-you fats, salmon skin is over 50% protein, which forms the building blocks of bones, cartilage, and muscles. Its vitamin D helps regulate calcium absorption, which is great for bones and teeth, and salmon's rich potassium reserves provide stamina for those long workouts.

It tastes like bacon
Yes, we said bacon. Cook it right and you've got a crisp, flavorful piece of skin that's a stand-in for everyone's favorite breakfast meat.

All that fat concentrated in the skin also means that it's full of flavor. If you render out that fat while you cook the fish, you'll end up with an irresistibly crisp piece of skin. To do that, pat the skin dry with a paper towel. Then warm oil in a pan over high heat. When the pan is hot, add the fillet, skin-side down, reduce the heat to medium low, and press on the fillet with a fish spatula to make sure the skin comes in even contact with the hot surface. (The skin has a tendency to shrink. Pressing on it while it cooks helps prevent it from curling.) Continue pressing on the fish frequently. Give it time, it takes longer than you think. Lift up a corner of the fish with your spatula. When the skin is well-browned and beginning to crisp, flip it over to briefly cook the other side.