A Food-Lover's Gift Guide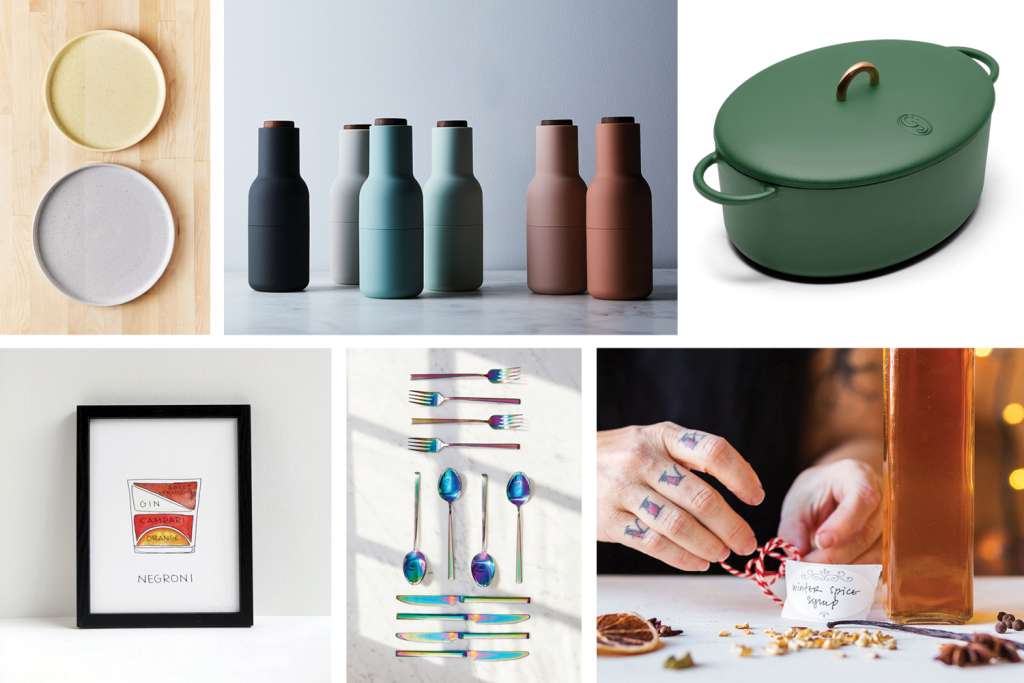 Holiday giving can feel like a trap. Play it safe with a gift card and risk coming off as impersonal, but take a guess at what the gift-ee might want and find your present in the regifting pile. Which is why we focused our kitchen-centric holiday gift guide on every type of food lover in your life, from the newbie to the Instagrammer. But don't forget to include a gift receipt, just in case.
Give the Gift of Likes
Make your Instagrammer friend's viral dreams come true with beautiful props that will take their feed to influencer status. One can never have enough surfaces to shoot on. This marbled wood cutting board and these stoneware platters in both earth tones and black make sleek backgrounds for food photos. For the one who's always cheeseboarding (that's a verb, right?), try a monogram marble cheese board with a set of Laguiole cheese knives. But the most Instagrammable prop of all is this polished metallic rainbow flatware set.  
Inspire the cooking newbie
Have a friend who doesn't know the first thing about cooking? Yes, you should send them your Sun Basket referral code, but go a step further and give them a bundle of essential kitchen tools. Every cook needs a reliable chef's knife, vegetable peeler, fine-toothed grater, and flexible spatula. Other essentials to tuck under the tree include stainless steel nesting bowls, a large wood cutting board, and a cast iron pan. 
Get a little fancy
There's always that one person on your list who seems to have everything. Focus on something that's functional but also has their sleek vibe. This tiered fruit basket with a plated-copper finish is a functional piece of art and the Bodum Chambord French press coffee pots make the most mundane morning task undeniably chic. These cocktail prints look sweet behind the bar, but if your friend prefers tea to cocktails and coffee a ceremonial matcha starter set includes everything they need to whisk up their morning matcha. 
Encourage your favorite cook to keep cooking
People who love to cook are always coveting new tools. This enameled cast iron dutch oven from Great Jones cookware is sleek and beautiful. You can't have too many aprons, and one with a pattern or in a favorite color feels a little more special. Budget-friendly gifts like a Thermopop instant-read thermometer or these salt and pepper mills that double as spice and nut grinders and a set of serving utensils  are a great way to remind your friends that you're always willing to come fordinner. 
When all else fails, DIY 
If shopping isn't your thing, consider making something instead. Our chocolate tahini truffles make a great gift when individually wrapped in parchment paper. Test Kitchen Sous Chef Ali Ramee recommends packaging up your go-to spice blend in individual jars. Our spiced winter syrup for drizzling over desserts and stirring into cocktails is a great multi-use gift, and while they're not for eating, homemade beauty products like a DIY spa treatment, berry body scrub or beeswax coconut lip balm are gifts that come together quickly with many ingredients you probably already have at home.