Caving to your Cravings Doesn't Have to be a Bad Thing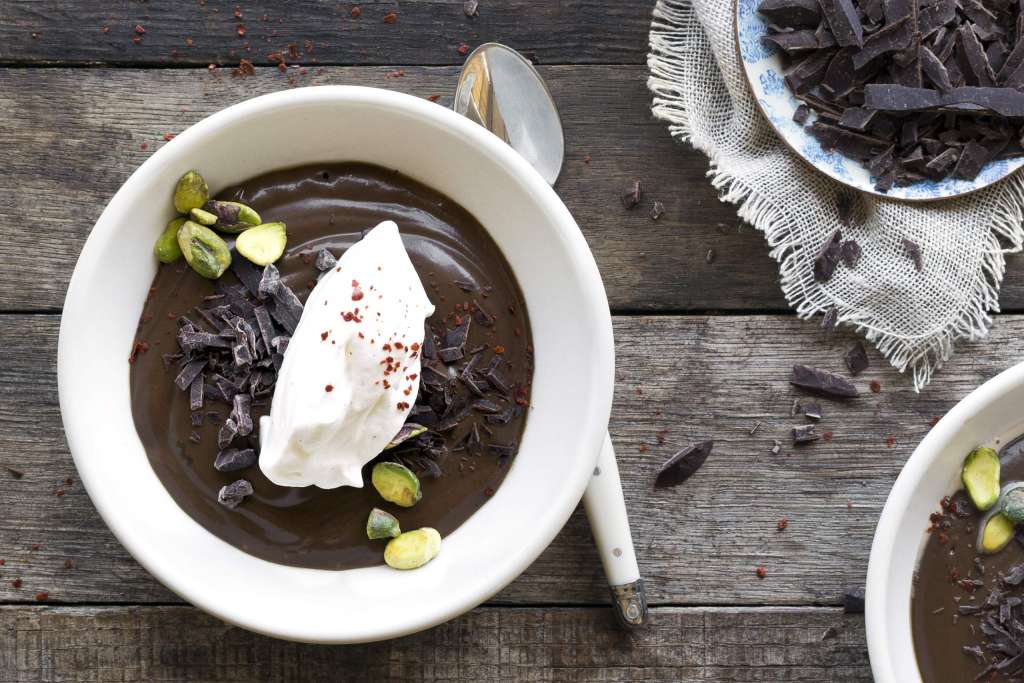 Lusciously rich, this no-bake dessert, developed by Sun Basket's pastry chef, Paul Conte, is gluten free, contains no eggs or refined sugar, and if you skip the whipped cream, it even qualifies as vegan. Thank the avocado for the creamy, smooth texture, along with the mood-boosting fatty acids. So go ahead, grab a spoon, and think about all those heart-healthy omega-3 fats as you finish licking the bowl.
Chocolate-Avocado Pudding
Serves 2 to 4 

Total time: 45 minutes
Cook time: 5 minutes
Prep time: 10 minutes + 30 minutes refrigeration
Ingredients
2 tablespoons shelled unsalted pistachios
1 large ripe avocado, preferably organic
½ vanilla bean, or ¼ teaspoon vanilla extract
1/3 cup fresh orange juice
¼ cup pure maple syrup
2 tablespoons agave
1/3 cup cocoa powder
¼ teaspoon chile powder, such as pasilla negro or guajillo, optional
½ cup heavy cream 
2 teaspoons cacao nibs
1 ounce dark chocolate (between 60 and 70 percent cacao solids)
Cayenne pepper, optional 
From your pantry
Kosher salt, sugar, optional
Tools
Peeler, whisk, optional, large bowl or stand mixer or electric hand mixer, blender, sheet pan
1.  Toast the nuts 
• Heat the oven to 350°F. 
On a sheet pan, spread the pistachios in an even layer. Toast in the oven until lightly browned and fragrant, about 5 minutes. Transfer to a plate to cool. 
While the pistachios toast, prepare the pudding.
2. Make the pudding
• Cut the avocado in half. Remove the pit, and scoop out the flesh. 
If using, cut the vanilla bean in half lengthwise and scrape out the seeds; set aside the seeds for the pudding and reserve the bean for another use.  
In a blender, combine the orange juice, maple syrup, agave, cocoa powder, avocado, vanilla seeds or extract, chile powder, if using, and 1/3 cup hot water. Season lightly with salt and blend until smooth.
Transfer the pudding to individual bowls and refrigerate until chilled, 30 to 40 minutes. 
Shortly before you are ready to serve the pudding, whip the cream. 
3. Make the whipped cream
In a large bowl with a whisk or electric hand mixer, or in the bowl of a standing mixer fitted with a whisk attachment on high speed, beat the heavy cream and ½ teaspoon sugar, if desired, until soft peaks form. 
4. Serve
Remove the pudding from the refrigerator. Top with the whipped cream, cacao nibs, and pistachios. Using a peeler, shave chocolate curls over the cream, sprinkle with as much cayenne as you like, and serve. 
Nutrition per serving: 
Calories: 360, Protein: 5g, Total Fat:  25g, Monounsaturated Fat:  8g, Polyunsaturated Fat:  1.5g, Saturated Fat:  11g, Cholesterol:  35mg, Carbohydrates:  36g, Fiber:  7g, Added Sugar:  20g, Sodium:  15mg
Diet: Gluten Free, Soy Free
Allergens: tree nuts, milk