Bananas Foster Recipe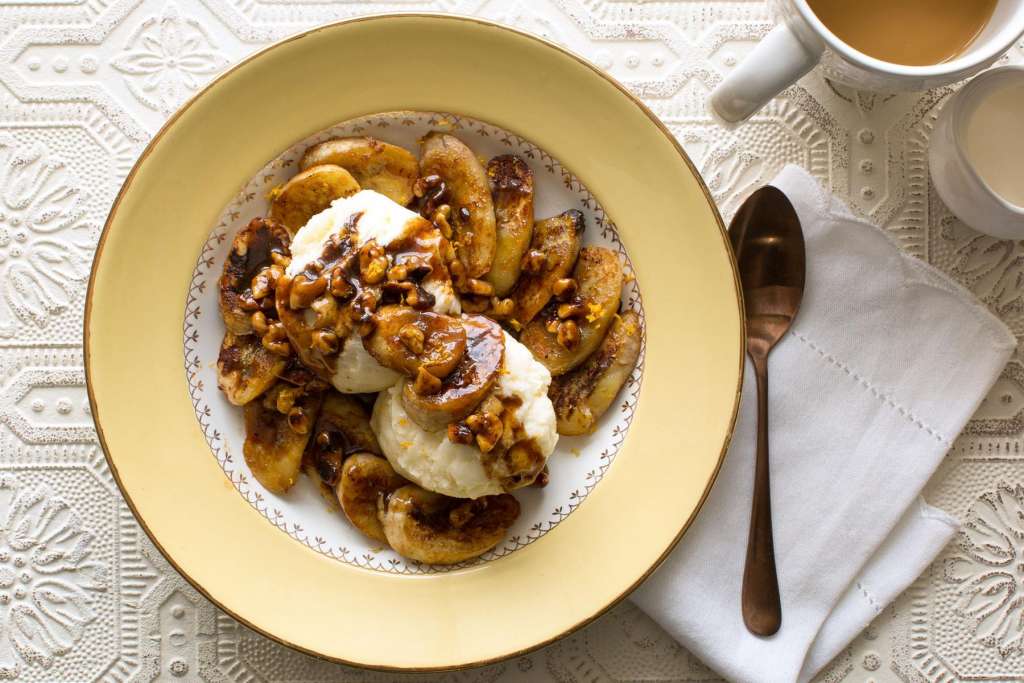 We make no claims to this being a "healthy" version of the beloved NOLA dessert, but compared to recipes we've seen that call for an entire stick of butter and a half cup of sugar, ours seems downright virtuous. Coconut oil and sugar only enhance the tropical flavors here, and the end result manages to still taste rich, though far less cloying than the original. 
Bananas Foster
serves 2
Shopping List
2 tablespoons coarsely chopped walnuts
1 orange
½ vanilla bean
2 ripe bananas
1 tablespoon unsalted butter
½ teaspoon coconut oil
2 tablespoons coconut sugar
¼ teaspoon ground cinnamon
1 to 2 tablespoons dark rum
Vanilla ice cream, frozen yogurt, or Greek yogurt, optional, for serving
From your pantry
Kosher salt
Tools
Fine-toothed grater, medium frying pan with a lid
1 Toast the walnuts
In a dry medium frying pan over medium heat, add the walnuts and toast, stirring occasionally, until fragrant and starting to brown, 2 to 3 minutes. Transfer the walnuts to a plate to cool. Wipe out the pan.
2 Prep the remaining ingredients
Zest and juice half the orange, keeping the zest and juice separate; set aside the zest for garnish and save the remaining half orange for another use. 
Cut the vanilla bean in half lengthwise and scrape out the seeds. 
Peel the bananas and cut crosswise on the diagonal into ½-inch-thick pieces; or slice the bananas in half lengthwise and then in half crosswise for planks. 
3 Cook the bananas Foster
In the same pan used for the walnuts, over medium-high heat, melt the butter and coconut oil. Add the coconut sugar, cinnamon, 1½ teaspoons orange juice, and the vanilla bean and seeds and cook, stirring gently, until the sugar has dissolved, 1 to 2 minutes. Add the bananas and cook, turning once, until just softened and starting to caramelize, 2 to 3 minutes. Discard the vanilla bean. 
Pour in as much dark rum as you like. To flambé, carefully ignite the alcohol with a wand lighter or a long match. Once the flame extinguishes itself, remove from the heat. Stir in the walnuts and season to taste with salt. 
4 Serve
Fill individual bowls with your choice of ice cream, frozen yogurt, or Greek yogurt, if using. Top with the banana mixture, garnish with the orange zest, and serve.
Chef's Tip: To infuse the bananas with rum flavor without the alcohol, this recipe uses the classic French technique known as flambé, or "flamed": spirits are added to a hot pan, where the alcohol ignites on its own or is burned off with help from a lighter. It's dramatic and fun to watch, but for safety's sake, keep a lid nearby to extinguish the flames if they don't burn out on their own. 
Nutrition per serving: Calories: 270, Protein: 3 g, Total Fat: 12 g, Monounsaturated Fat: 2.5 g, Polyunsaturated Fat: 4 g, Saturated Fat: 5 g, Cholesterol: 15 mg, Carbohydrates: 39 g, Fiber: 5 g, Added Sugar: 8 g, Sodium: 250 mg. Contains: milk, tree nuts.
Bonus Recipe—ingredients not included in box