A Traveler's Guide to Smart Eating on the Go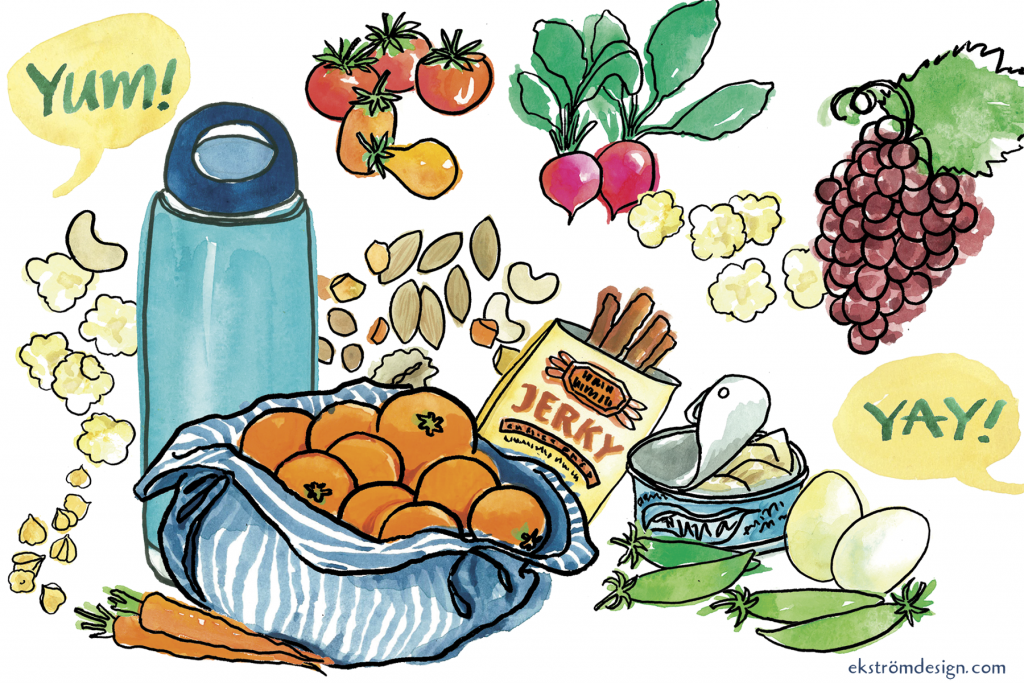 Summer travel doesn't mean you have to abandon your healthy eating habits. Use these practical strategies to make sure you arrive at your destination well-nourished.
BYOWB
Bring your own water bottle. Whether you're traveling by car, train, or plane, changes in altitude and confined airflow can take a major toll on your hydration status. Plus, hotter temperatures in the summer months increase your need for water. (Use our hydration calculator to help figure out just how much water you should be drinking.) Pro tip: Fill up when you fuel up. Aim to pace your water consumption with your gas stops. Just like your car needs gas, your body needs water to focus on the road.
Pack Snacks
Skip the flaming hot cheese puffs and diet soda and pack some good-for-you treats instead. Look for nutrient-rich whole foods that are as minimally processed as possible. A good rule of thumb is to snack on perishable items first and tap into your nonperishable inventory later on in the trip. Here are some of our favorite healthy and car-friendly snacks:
Good Fats—DIY Trail Mix: Store-bought trail mix is often mostly chocolate and sugar-coated fruits with a garnish of nuts. Better to make your own mix of nuts and seeds, which are loaded with appetite-curbing good fats and a punch of protein. Add some unsweetened dried fruit or a few pieces of good-quality dark chocolate for a touch of sweetness. 
Wholesome Whole Grains: Single-serving oatmeal packets can help you meet your whole-grains requirement while on the go. (Beware of flavored oatmeal, as most contain hidden sugars.) At your next coffee stop, ask for a cup of hot water and a spoon. Bonus: Most coffee shops have cinnamon or nutmeg on hand, which is a great oatmeal flavor booster. Pro tip: Throw in a handful of your homemade trail mix for some of those good fats and protein.
Fruits and Vegetables: Apples, grapes, and clementines are great choices. Avoid soft and juicy fruits like peaches, which can be messy and bruise easily. Baby carrots, sugar snap peas, and cherry tomatoes are good options because they require no chopping prior to packing.
Power Up on Proteins: Too often, the snacks we reach for are munchy-crunchy carbs that lack nutrient density nor long-lasting energy. Combat this with such energizing proteins as hard-cooked eggs. Pro tip: Pre-peel the eggs before you leave home (keep them in your cooler). Grass-fed jerky (low sodium, nitrate-free), canned tuna or salmon (also available in shelf-stable pouches), roasted chickpeas, and mini packs of hummus (which will pair perfectly with your vegetables) are all great options. 
Don't Abandon What's in the Fridge: Rather than letting the last bits of produce and last night's leftovers wilt in the fridge while you're traveling, layer grains, vegetables, and proteins in reusable containers for mini meals. Check out some of our favorite combinations here. 
Inedible Activities
While it's important to stay fueled during a road trip, don't occupy long travel times with mindless munching. Better to beat the boredom with a few inedible activities. Before you depart, brainstorm a list of car-friendly games and download a few podcasts and audiobooks—maybe even a playlist you can sing along to. 
Artwork by ekströmdesign