Podcasts We Love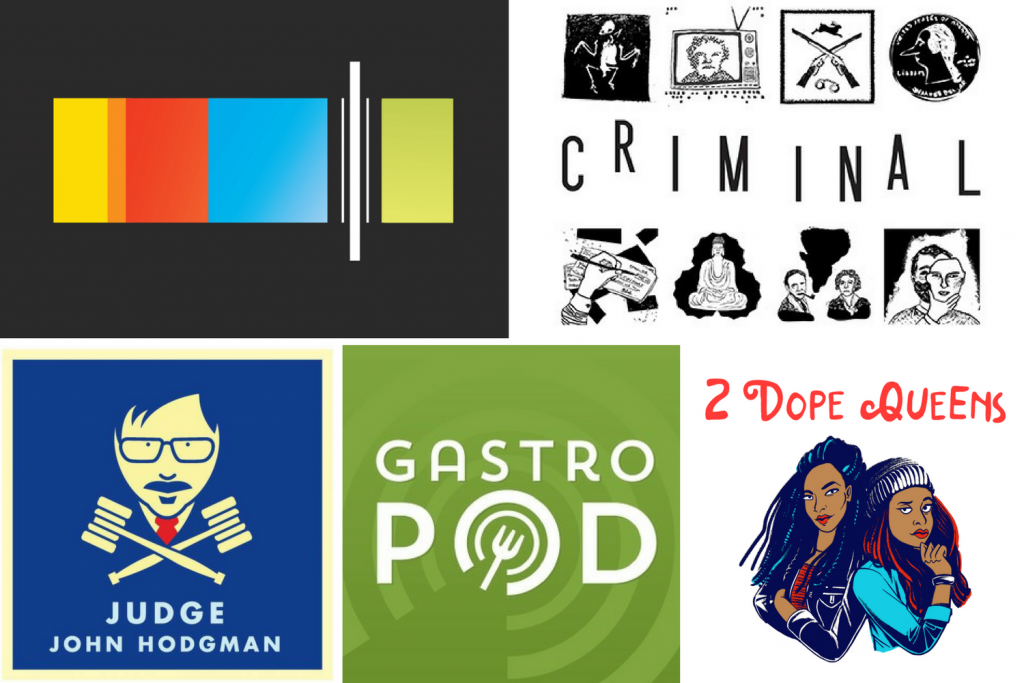 A road trip is the perfect time to dive deep into different points of view and fresh voices. Here's a round-up of some of our favorites. Not all are suitable for kids, so check them out ahead of time if you're traveling with little ears.
Travel
Girl Camper
Janine Pettit rediscovered her love of camping after a 25-year hiatus. Now she travels across America, meeting friends and other campers and telling their stories. For women who want to feel empowered to hit the road with their own camping trailers in tow, and for anyone who thinks it's never too late to revive old passions.
Extra Pack of Peanuts
With advice from packing tips to how to score $5 plane tickets to what to do in Loja, Ecuador, Travis & Heather Sherry tell you everything you need to know to travel more while spending less in this companion podcast to their blog and website.
Amateur Traveler
Debating where to travel to next? Amateur Traveler's host Chris Christensen interviews experts on specific destinations, as well as seasoned travel vets. Geared towards inspiring listeners to get up and go, this podcast gives you the skinny on everywhere from Seychelles to Scotland.
Food
Gastropod
Maple syrup's criminal alter-ego, the science behind why some of us can't live without caffeine, kelp as the new kale. Every two weeks, co-hosts Cynthia Graber and Nicola Twilley geek out on the science and history of culinary topics ranging from peanuts to forgotten fruits and the future of food. With interviews from experts in their field, to farmers plowing dirt in their fields, this podcast digs deep into what ends up on our plates.
The Splendid Table
Inspired by Lynne Rossetto Kasper's cookbook of the same name, The Splendid Table began as a radio call-in show in 1997. Today the syndicated program is broadcast on more than 400 stations, and also available as a podcast. Food writer Francis Lam took over as host of the show earlier this year and now leads lively conversations with chefs and food activists, covering everything from one man's efforts to feed the homeless from the back of his truck to small-game dinners where raccoons and coyotes are on the menu.
The Sporkful
With the tagline of "The Sporkful isn't for foodies, it's for eaters," host Dan Pashman posits (and opines on) such questions as "Is a hot dog a sandwich?" (he claims it is) and interviews guests, like Rachel Maddow, asking "Can you eat the garnish on your cocktail?" (she says no). 
Storytelling
The Moth
On a stage, without notes or script, The Moth Radio Hour captures real stories from real people, covering the gamut from a quest to find Paul Bowles in Morocco to the story of an athlete and model who happens to be a double-amputee. The podcast airs all-new episodes of the radio hour, for those already fans, plus additional stories from their 20+ year archives.
Criminal
With one of the best voices out there, host Phoebe Judge delves into stories revolving around a crime, the perpetrators, the victims, and the families. She avoids the sensational and focuses on the people and circumstances that lead to things going very wrong.
Memory Palace
Nate DiMeo's quiet, steady voice narrates 8 to 10 minute stories based on historical events. Artist in residence at the Metropolitan Museum of Art and longtime producer of public radio, DiMeo crafts his stories so artfully that they almost sound like fiction, like the one based on the life of the early 20th-century bank robber Elmer McCurdy told entirely in verse.
Comedy
Superego
For those who love improv and sketch comedy. Regular cast members Jeremy Carter, Matt Gourley, Mark McConville, and Paul F. Tompkins play 'doctors,' riffing on theories and diagnoses in classic improvisational style. Episodes are divided into chapters and include skits on everything from diagnosing the staff of the Hollywood Motion Picture Press Association to a case study of antisocial personality disorder as represented by the Shootout at the O.K. Corral.  
2 Dope Queens
Recorded live on stage in Brooklyn, BFF stand-up comedians Phoebe Robinson and Daily Show vet Jessica Williams dish on everything from cornrows to plane travel in this raw, no-holds-barred weekly podcast.
Judge John Hodgman
A spin-off of his New York Times column, John Hodgman judges cases from call-in personalities, giving the final verdict on issues such as taking cats out on leashes, or whether or not a hot dog is a sandwich (he claims it is not) (and yes, there is a podcast feud with The Sporkful … because, podcasts).
Podcast Listening Apps
iTunes and Google Play Music make it easy to download podcasts directly to your phone, but there are a few other podcast aggregator apps that make listening simple and seamless.
Pocket Casts
A modern drag-and-drop design, settings to control your download preferences, and the ability to queue your podcasts for seamless listening make Pocket Casts as visually appealing as it is useful. And if you like to check out new and breaking podcasts, their 'Discover' tool offers up-to-date lists of those that are trending and popular.
Stitcher
Tons of podcasts to choose from which feed into your ability to create custom "stations" that are essentially word playlists. Stitcher's strength is personalization. Your front page features curated news stories and generates recommendations based on your listening history. 
Soundcloud
An increasingly popular site for independent podcasters to post their 'casts (as well as music, in case you like to mix things up). There aren't as many mainstream podcasts to choose from, but for anyone looking for new voices, this is a great resource.