Sun Signs—July 2017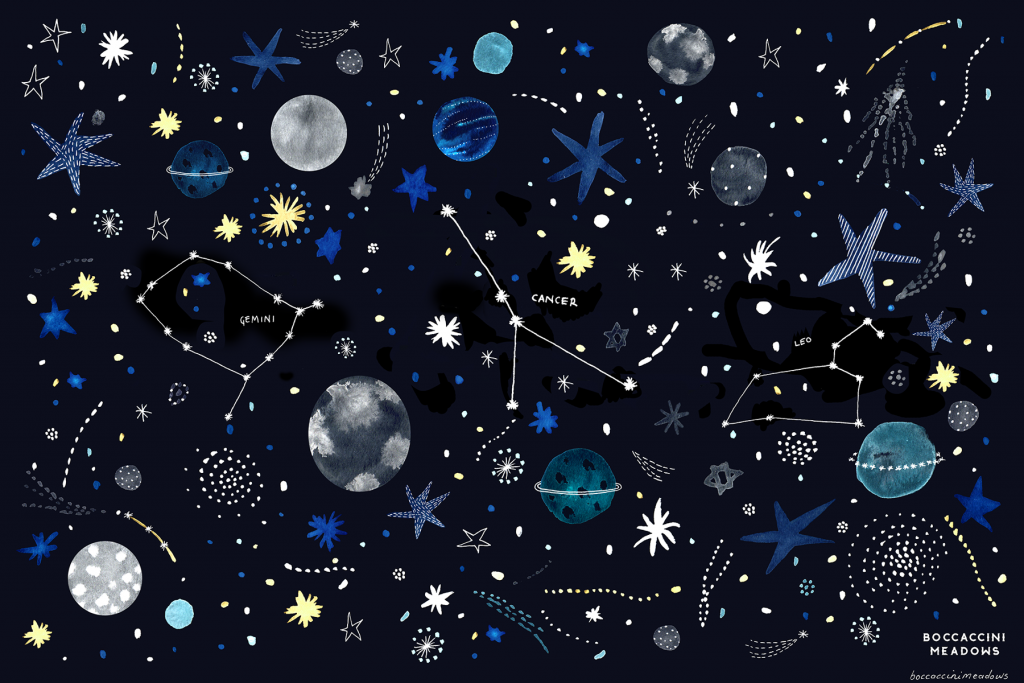 July is wide-open for launching projects that may have been on hold the last few months. With a short window when all the personal planets are pushing forward, avoid emotional displays and getting over-sensitive or defensive. Cancer's watery depths and emotional intelligence can irrigate the dry patches and soften the ground of our relationships.  
By Lisa Awrey
CANCER (June 21–July 22) Hey crabs, feeling busy? You've got so much going on. Just remember to stay anchored, so you don't get swept away by the flood of emotions headed your way. A homebody at heart, your birthday month pushes you to put yourself out there. This is a great time to engage in some self-promotion and initiate new projects. Your efforts will lay the groundwork for a fresh start financially. 
LEO (July 23–Aug 22) If you don't already keep a dream journal, consider putting a pen and paper by your bed. Better yet, find a dream group, start a vision board; the more you can see it all, the better you can coalesce the seesaw forces. Most importantly lions, feed your spirit and the rest will follow.
VIRGO (Aug 23–Sept 22) Baring your soul is not so bad (or scary) when you're among friends. Drawing on the power of the collective helps kick start your practical magic toward the end of the month. Now is the time to devise some new strategies around living the kind of life you've been dreaming of. 
LIBRA (Sept 23–Oct 22) You're pulled in so many directions, why not invoke quantum entanglement theory to regain your equilibrium. Trust that actions made in one segment of your life will influence others. If you can keep your eyes on the prize: your career, all that focus can bring you to find new collaborators by month's end and set you well on course for your dreams about what you want for your wider community. 
SCORPIO (Oct 23–Nov 21) Heading to higher ground, you catch a bird's eye view of the bigger picture and a wave of optimism along the way. Meanwhile, adventure calls and traveling outside your comfort zone and teaching others fills your calendar. While your head is above the clouds, be sure to literally plant your feet on the earth as it helps position you to take your career in a new direction. 
SAGITTARIUS (Nov 22–Dec 21) Generally more adept at talking about emotions than experiencing them, this month you find value in feeling through the blocks that have held you back. Maybe a new romance will guide you through? Or you deepen your existing relationship with this emotional spelunking. When you slow down long enough to face your fears, you clear the way for a revelation or two. By month's end, you're ready to explore, and do what Sag's do best: seek fresh horizons.
CAPRICORN (Dec 22–Jan 19) Swiping left or right is just another way of distancing yourself from messy relationships and an excuse to remain alone. It's lonely at the top, as you well know. But this month brings the opportunity to strike a balance between work and relationships. It's a good time to do what you've been thinking for a while about that special someone: go ahead, take it to the next level; it'll be worth it. 
AQUARIUS (Jan 20–Feb 18) Grounding yourself in the here and now—walking the dog, hitting your yoga class—may seem boring, but if there's any sign of the zodiac that can make the mundane interesting, it's you. With so much happening in sensitive Cancer, it's an emotional month for everyone, and an opportunity for you to have a cathartic release, which could open you up for a whole new relationship.
PISCES (Feb 19–Mar 20) July's deep waters are familiar terrain, but it's best for you to enjoy swimming in the river's sweet, shallow pools while staying well clear of the falls. Keeping it light and playful is your prescriptive m.o. this month. You will be amazed at how many creative projects you'll check off your list.
ARIES (Mar 21–April 19) While everyone else heads out on vacation this month, you're staying put with a long list of projects. It's a great time to finally turn the garage into your workshop. And the neighbors will be thrilled that you're sprucing up the yard. All this home improvement will feed your creative fire for months to come.
TAURUS (April 20–May 20) Pile the kids in the car and roll on up to Grandma's—it's a good-time for a family reunion. You may be flush, thanks to a well-earned bonus, but with gas prices on the rise, adventures close to home leave more in the bank to put toward upgrading your home later this month.   
GEMINI (May 21–June 20) Earthly goods occupy every Twin's mind this month. Material security and personal finances pack an emotional punch. As you wrap your mind around your worth and values, feel your way into what matters most to you. Many of you will choose to commune with Mother Earth. You'll head into August stronger for having grounded your mercurial selves.
illustration by @boccaccinimeadows