Outdoor Cooking is Easier Than Ever with Sun Basket's Summer Grilling Kit
Sun Basket's Summer Grilling Kit includes two sauces, a marinade, and a rub—all developed to deliver bold seasonal flavor to your favorite meats, seafood, and vegetables. Whatever you decide to grill, we recommend shopping local and choosing organic.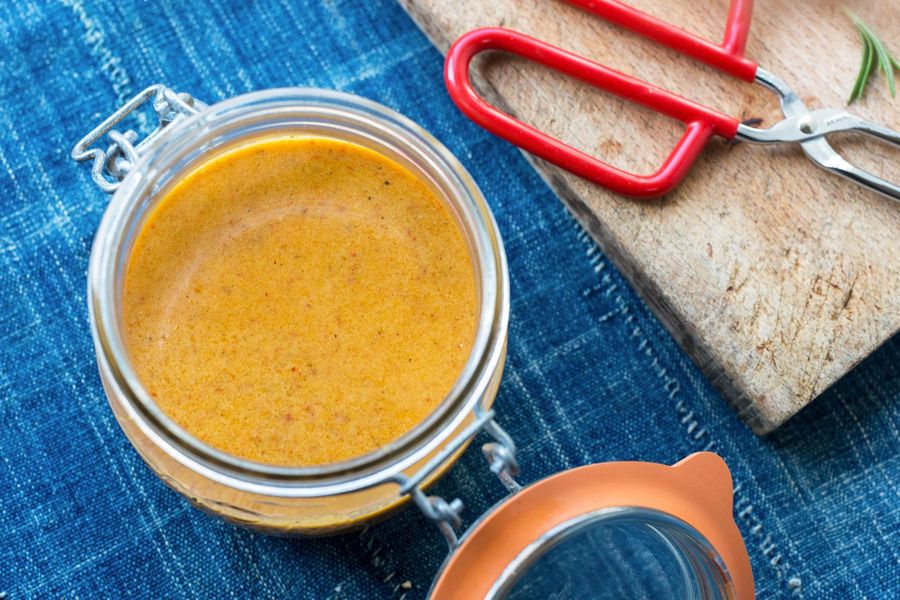 Sun Basket Mojo Marinade 
This citrusy marinade hails from Cuba, where it's used to season pork, (sometimes a shoulder, sometimes a whole pig), for a classic dish known as lechon asado. As good as it is on pork (and believe us, it's really good), mojo makes a wonderful marinade for shrimp, swordfish, and rockfish. 
Here are a few of our favorite Mojo recipes. 
Mojo-braised pork shoulder
Heat the oven to 350°F. Pat one 6 to 10-pound bone-in pork picnic shoulder dry with paper towels and season with salt and pepper. In a large sauce pot over medium-high heat, warm 2 tablespoons oil until hot but not smoking. Add the pork and cook, turning a few times, until browned all over, 3 to 4 minutes per side. In the sauce pot, combine the pork, 2 cups Sun Basket Mojo marinade, and 1 cup water and bring to a simmer on the stovetop. Transfer to the oven and bake, turning once or twice, until tender when pierced with a fork, 30 minutes per pound. Shred with a fork, stir the meat in with the sauce, and serve.
Chef's Tip: You can also grill the pork over a medium-high gas or charcoal fire.
Mojo ceviche
Use ¼ cup Sun Basket Mojo Marinade for every 1 cup chopped seafood, (such as peeled deveined shrimp, sea bass, halibut, salmon, or bay scallops). Combine the marinade and seafood in a medium or large bowl and toss to coat. Press a layer of plastic wrap onto the seafood, and cover the bowl tightly with a second layer of plastic wrap. Refrigerate for at least 2 hours and up to overnight.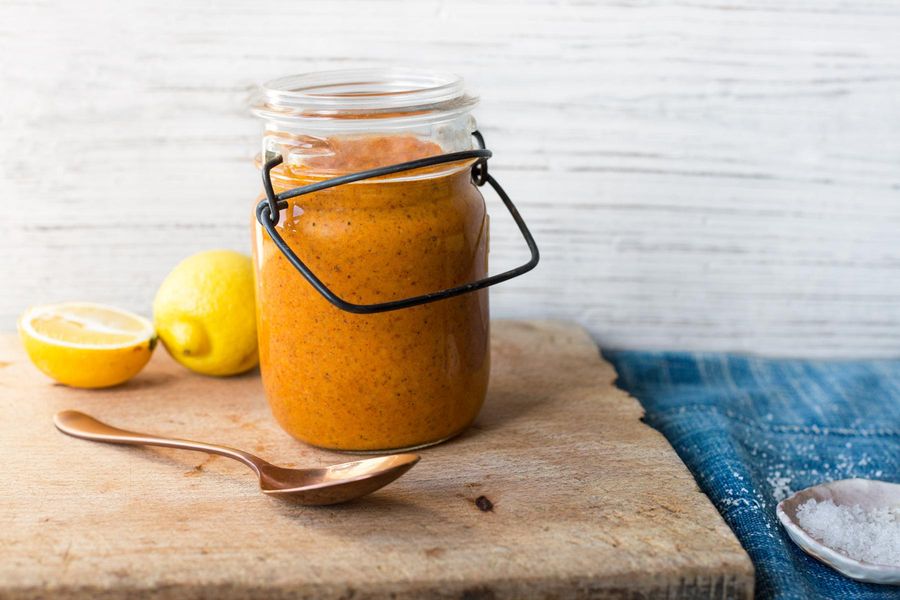 Sun Basket Romesco 
In the Catalan region of Spain, where this earthy sauce has its roots, romesco is made with roasted red peppers, seasoned with garlic and sweet smoked paprika, and thickened with almonds. It's often served with grilled vegetables—especially asparagus or green onions called calçots—but it's also wonderful with fish. 
We love our Sun Basket Romesco with Grilled Summer Vegetables. Or try it using one of these sure-fire picnic dishes:
Romesco potato salad
Toss Sun Basket Romesco with boiled peeled new potatoes and season with salt and pepper.
Deviled eggs romesco
Peel and halve a dozen hard-cooked eggs. Carefully scoop out the yolks and stir in 1 cup Sun Basket Romesco into until smooth. Season to taste with salt and pepper. With a spoon or a piping bag, fill each egg white with about 1½ teaspoons egg yolk mixture.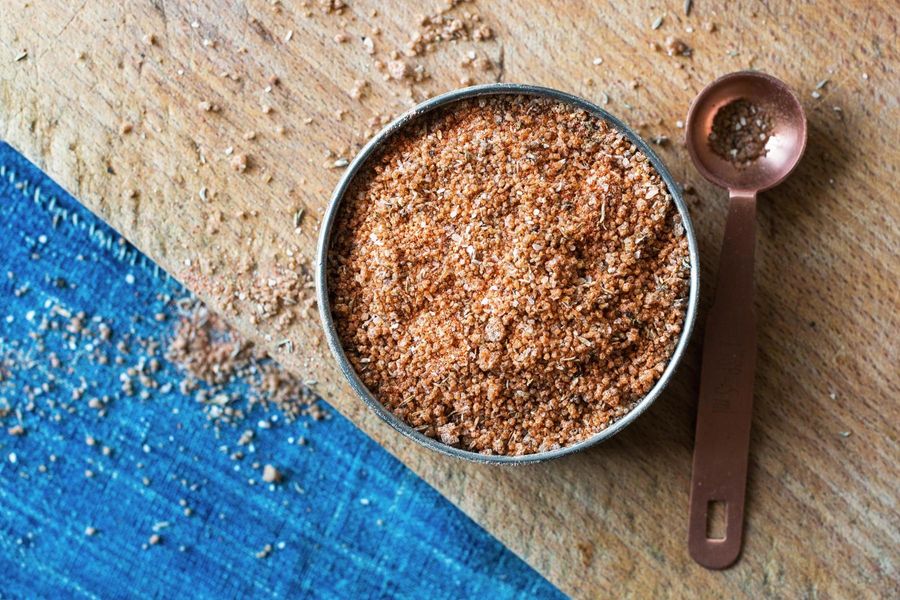 Sun Basket Memphis BBQ Rub 
Pitmasters in Memphis don't mess around with sauces. They favor dry rubs like this full-flavored mix of paprika, garlic, thyme, and black pepper with a touch of brown sugar. For the best flavor, rub this seasoning into pork ribs or brisket the night before grilling, and set some aside to sprinkle on the meat at the end of cooking. Put some out in bowls on the table so guests can sprinkle a pinch on anything they like. 
Use it to make Steak with Memphis BBQ Rub or:
Sun Basket Memphis BBQ Fish
Use 2 teaspoons Sun Basket Memphis BBQ rub for every 1 pound of fish, such as monkfish, grouper, swordfish, or other meaty white fish. Grill or broil, turning once, until browned and cooked through, about 10 minutes per inch. 
Sun Basket Memphis BBQ Chicken
Use 2 teaspoons Sun Basket Memphis BBQ for every 1 pound chicken and season well.  Grill or roast the chicken until cooked through.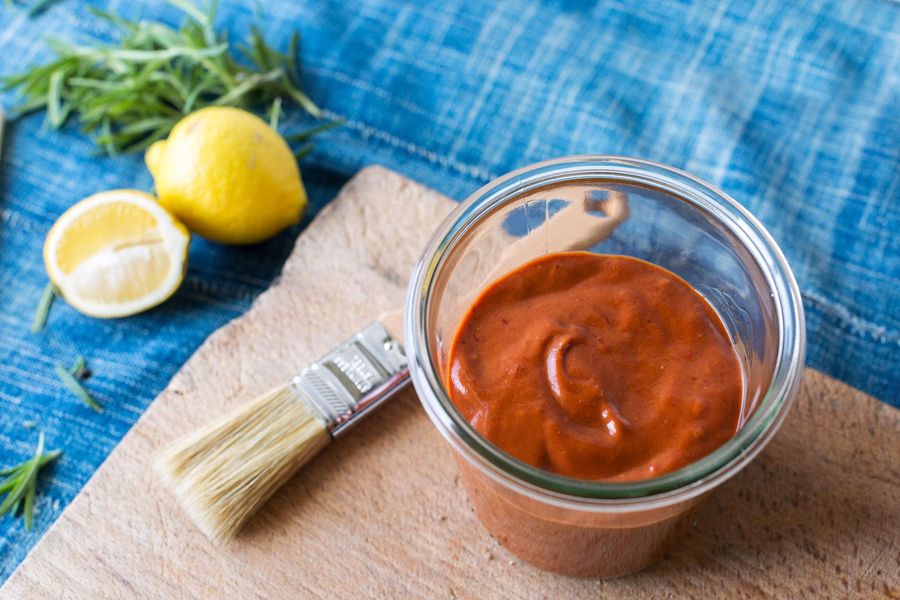 Sun Basket Chipotle Barbacoa Glaze 
Our tomato-based barbacoa gets a subtle, smoky heat from chipotle chiles, and a tangy bite of apple cider vinegar that will have you licking your fingers and smacking your lips. Brush it on meat during the last 15 minutes of grilling.  
Use it to make Chicken Wings Barbacoa or:
Sun Basket Chipotle Barbacoa Spare Ribs 
Use about 1 cup Sun Basket Chipotle Barbacoa Glaze for every two racks of ribs, slather the ribs with the sauce. Cover with foil and bake in a 250°F oven for two hours. Remove the foil, brush with additional Sun Basket Chipotle Barbacoa Sauce and broil or grill until well browned, 2 to 3 minutes on each side. 
Chef's Tip: You can set aside ½ cup barbacoa to serve as a dipping sauce; brush the ribs with the remaining barbacoa before broiling or grilling.
Sun Basket Chipotle Barbacoa Grilled Shrimp 
Toss 3 to 4 pounds shelled, deveined shrimp with 1 cup Sun Basket Chipotle Barbacoa. Grill or broil, turning once, until firm and cooked through, 1 to 3 minutes per side, depending on thickness. Serve with the remaining Sun Basket Chipotle Barbacoa for dipping.