Strawberry-Vanilla Yogurt Pops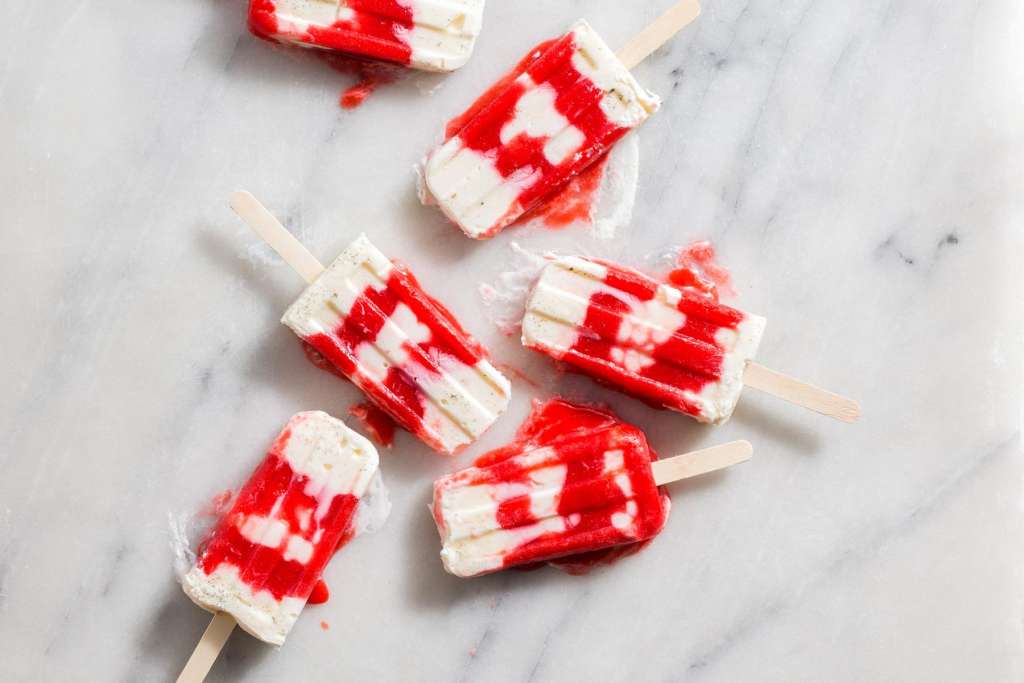 It's not really summer until you have your first frozen pop, and this simple combination of strawberries and yogurt is hard to beat. Just make sure to use organic strawberries, as conventionally grown ones top the USDA's list of produce with the most pesticide residue. You can use coconut yogurt to make these ice-pops dairy-free, but they won't have the same creamy texture as pops made with full-fat, milk-based yogurt. 
Strawberry-Vanilla Yogurt Pops Recipe
Serves 6
Shopping List
2 cups organic strawberries 
1 vanilla bean
¼ teaspoon kosher salt
4 tablespoons coconut nectar or honey
1½ cups full-fat plain organic Greek yogurt or dairy-free coconut yogurt
Tools
Paring knife, blender or food processor, fine-mesh strainer, 2 small bowls, 6 ice-pop molds or 6 small paper cups, wooden ice-pop sticks or skewers, aluminum foil 
1 Prep the strawberry puree and the yogurt
Remove the green hulls from the strawberries. 
Using a paring knife, cut the vanilla bean in half lengthwise and scrape out the seeds with the knife tip; set the pod halves aside for another use.
In a blender or food processor, combine the strawberries, vanilla seeds, salt, and 2 tablespoons of the coconut nectar, or honey, and process until smooth. Pour the puree through a fine-mesh strainer set over a small bowl. 
In a second small bowl, stir together the yogurt and the remaining 2 tablespoons coconut nectar or honey.
2 Make the pops
Spoon 2 to 3 teaspoons strawberry puree into the bottom of each ice pop mold. Spoon 1 to 2 tablespoons yogurt on top of the puree. Repeat, alternating layers of strawberry puree and yogurt, until all 6 each molds are filled.
Put the tops on the molds and insert an ice-pop stick in each one. If using paper cups, fill the same way, then cover the top of each filled cup with a small square of aluminum foil. Using the knife, make a small slit in the middle of each piece of foil and insert a stick. Freeze until solid, 4 to 5 hours.
3 Serve
Remove the pops from the molds, or peel away the cups and foil, and serve. 
Nutrition per serving: Calories: 100, Protein: 6g (12% DV), Fiber: 2g (8% DV), Total Fat: 1.5g (2% DV), Monounsaturated Fat: 0g, Polyunsaturated Fat: 0g, Saturated Fat: 0.5g (3% DV), Cholesterol: 5mg (2% DV), Sodium: 110mg (5% DV), Carbohydrates: 18g (6% DV), Total Sugars: 15g, Added Sugars (honey): 11g (22% DV). Not a significant source of trans fat.
Bonus recipe—ingredients not included in box.