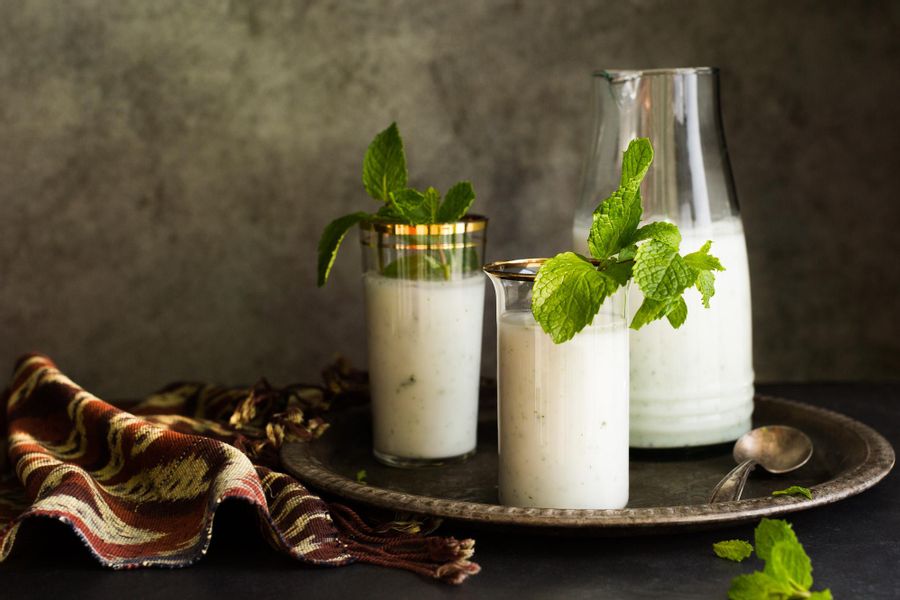 Doogh - Mint and yogurt drink
We think of this as Iran's answer to a Brooklyn egg cream. Surprisingly refreshing and not too sweet, we could drink it all day. Well-chilled ingredients are a key to its appeal, so plan accordingly.
Ingredients
3 cups sparkling water
1 cup Greek yogurt
½ teaspoon dried mint, or 6 large fresh mint leaves, finely chopped
4 sprigs fresh mint, for garnish
From your pantry
Kosher salt, ice
Tools
Pitcher
Method
1. In a pitcher, combine the sparkling water, yogurt, and mint, and whisk until smooth. Season to taste with up to ½ teaspoon salt.
2. Fill 4 glasses with ice. Pour the mixture into the glasses, garnish with the mint sprigs, and serve.
Total time: 5-10 minutes
Serves: 4
Diets: Gluten Free, Vegetarian, Soy Free
Allergens: Dairy
Nutrition per serving: Calories: 40, Protein: 5 g, Total Fat: 1 g, Monounsaturated Fat: 0 g, Polyunsaturated Fat: 0 g, Saturated Fat: 1 g, Cholesterol: 5 mg, Carbohydrates: 2 g, Fiber: 0 g, Added Sugar: 0 g, Sodium: 110 mg