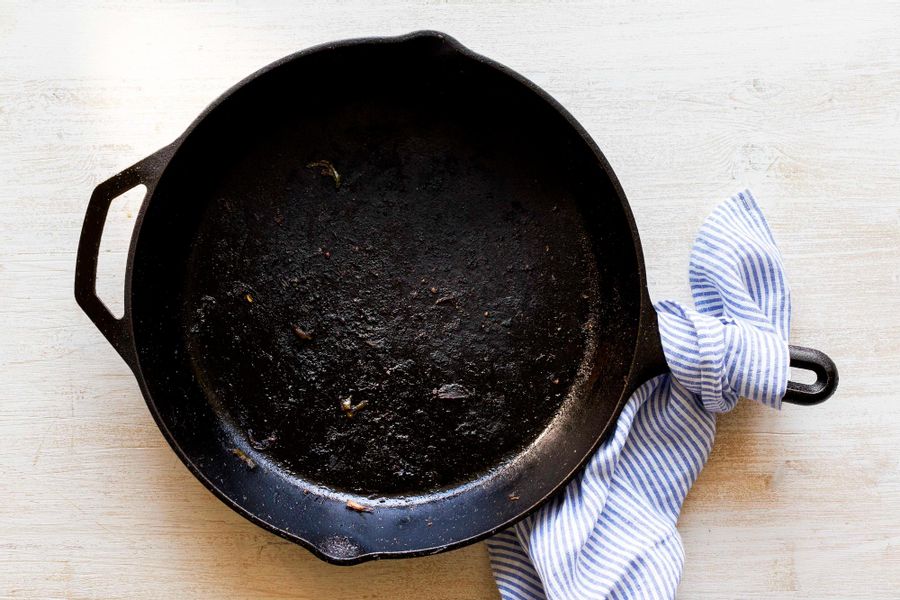 What's up with the Dirty Pan?
If you cook many Sun Basket recipes, you've likely come across an instruction midway through that asks you not to clean the pan. We do it in the recipe for Pork Blade Steaks with Red Cabbage and Roasted Grapes right after taking the meat out of the pan. You'll find the same instruction in the Chicken and Spaghetti with Collards and Caramelized Onions and our Thai Steak Panang Curry with Jasmine Rice. No, we're not lazy. (Well, maybe we are, but that's not why we don't wash the pan.)
You'll typically see this direction right after browning meat, when the pan is covered with fat, juices, and bits of meat stuck to the bottom of the pan—pure gold in terms of flavor. Leaving this manna behind rather than pouring it down the sink adds a depth of flavor to a dish that's hard to come by any other way.
When you brown onions and other aromatics in a pan still dirty from cooking meat, you add complexity and increase the savoriness of the finished dish. So, take it from us—do the dishes after you eat. Your dinner will be better for it.