Start Your Day with Our Gluten-Free Breakfast Bars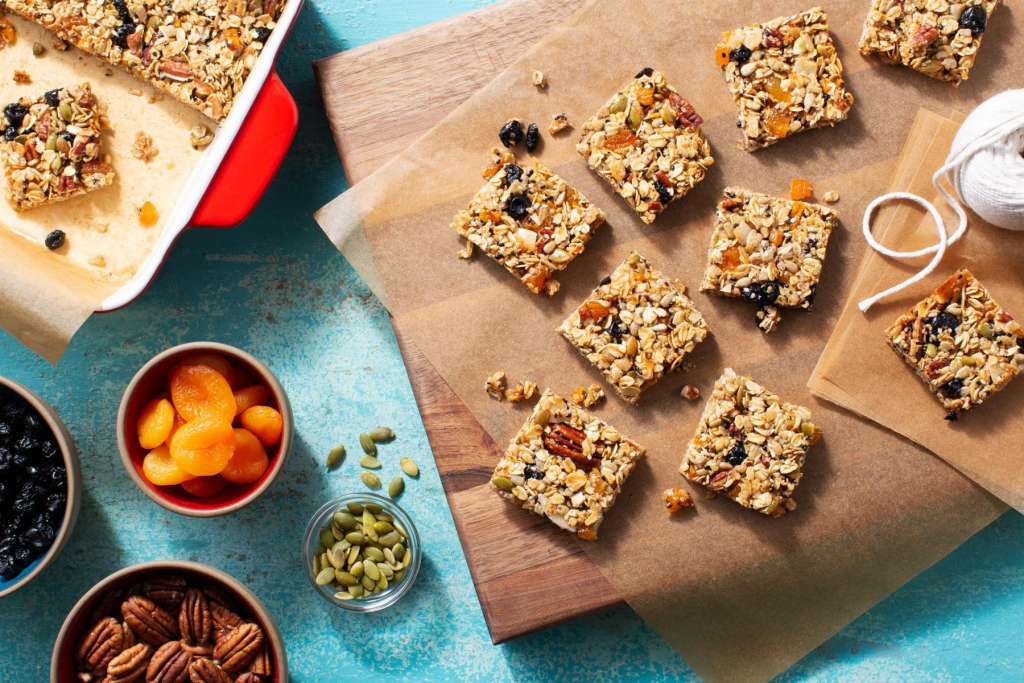 The problem with breakfast bars is that most fall apart when you pick them up. We set out to develop one that held together so that it could be easily eaten on the go. Sun Basket Executive Pastry and R&D Chef Paul Conte nailed it with these satisfying, nutrition-packed bars for those mornings when sitting down to eat just isn't going to happen. Rich in fiber (thanks oats) and protein (looking at you nuts and seeds), and sweetened only with brown rice syrup and dried fruit, these are both nourishing and portable. Customize your bars by switching up the dried fruits, nuts, and seeds. Pack them in your kids' lunches, or bring them along on a hike or camping trip for a delicious boost of energy.
Gluten-Free Breakfast Bars Recipe
Makes about 16 to 20 two-inch bars
Shopping List
½ cup dried apricots
1 organic orange
1¾ cups rolled oats
½ cup raw pecans or almond pieces
¼ cup pumpkin seeds
¼ cup sunflower seeds
½ cup puffed rice
½ cup dried blueberries
½ cup unsweetened coconut flakes
1 tablespoon white sesame seeds 
1 tablespoon black sesame seeds 
2 tablespoons organic salted butter
⅔ cup brown rice syrup
¼ teaspoon ground cinnamon
1 tablespoon vanilla extract
¼ teaspoon salt
Tools
Food processor, large bowl, small sauce pot, sheet pan, large baking dish (9 by 13 inches), parchment paper
1. Prep the dry ingredients
Heat the oven to 325°F. 
In a food processor, pulse the apricots until finely chopped. 
Zest enough of the orange rind to measure 1 teaspoon.
Lightly grease a large (9 by 13 inch) baking dish and line with parchment paper. 
On a sheet pan, spread out the oats, pecans or almonds, pumpkin seeds, and sunflower seeds and toast until lightly browned, 10 to 12 minutes. Transfer to a large bowl and add the puffed rice, apricots, blueberries, coconut flakes, white and black sesame seeds, and orange zest and mix to combine. 
2. Make the syrup
In a small sauce pot, stir or whisk together the butter, brown rice syrup, and cinnamon until incorporated. Bring to a boil, remove from the heat, and stir in the vanilla and salt.
Pour the syrup into the bowl with the dry ingredients and toss to evenly coat. 
3. Bake the bars
Spread the breakfast bar mixture in the baking dish, using lightly buttered or greased hands to press down firmly. Bake, rotating the pan halfway through, until golden brown, 25 to 30 minutes. Remove from the oven; let cool for at least 2 hours. 
4. Serve
Cut the bars into 2-inch squares and serve, or store in an airtight container for up to 1 week. 
Chef's Tip: Wrap each breakfast bar individually in parchment paper before storing in a container for an easy grab-and-go snack.
Nutrition per serving: Calories: 200, Protein: 3g (6% DV), Fiber: 3g (12% DV), Total Fat: 8g (12% DV), Monounsaturated Fat: 2g, Polyunsaturated Fat: 2g, Saturated Fat: 2.5g (13% DV), Cholesterol: 5mg (2% DV), Sodium: 70mg (3% DV), Carbohydrates: 29g (10% DV), Total Sugars: 12g, Added Sugars: 7g (14% DV). Not a significant source of trans fat.
Bonus recipe—ingredients not included in box.