Behind the Recipe: Talking Pho with Chef Justine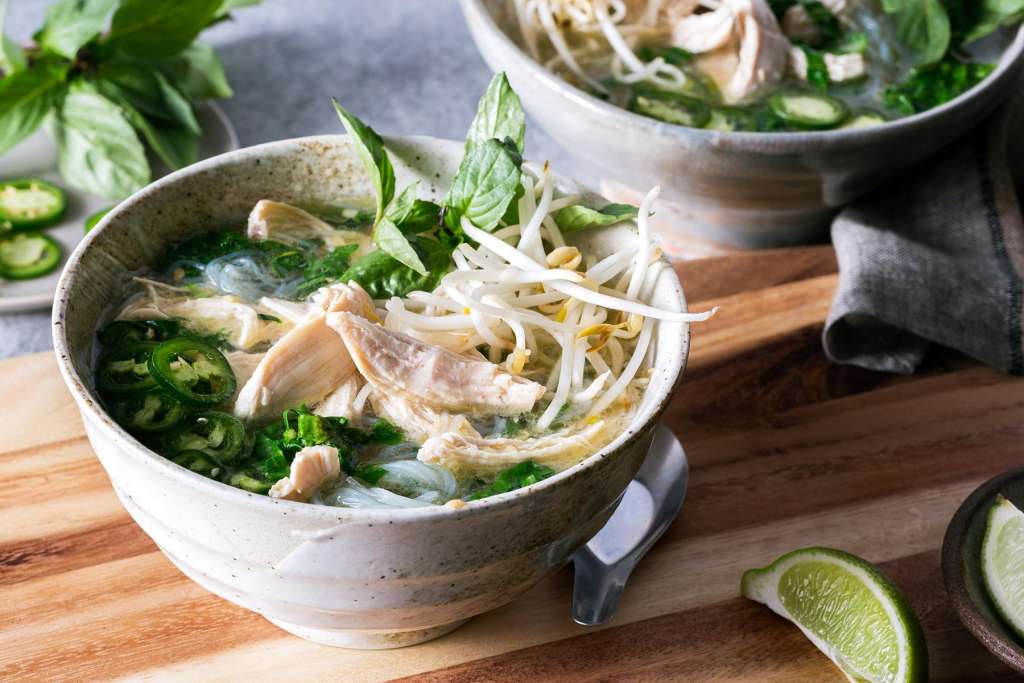 Long before Justine Kelly began developing recipes for Sun Basket, our executive chef and cofounder ran the kitchen at one of San Francisco's best-known Vietnamese restaurants. During her many years there, Justine traveled to Vietnam and developed a deep knowledge of that country's cuisine. That's one reason why you'll often find versions of her favorite Vietnamese dishes, like pho ga—or chicken soup—on our menu. 
We spoke with Chef Justine about the inspiration behind her Vietnamese Chicken Noodle Soup: 
Pho is typically made with a broth that  that simmers for hours. How are you able to achieve such deep flavor in just 20 minutes?
For this particular recipe, we use Sun Basket chicken soup base, our custom seasoning blend, which includes star anise and cinnamon, as well as lemongrass, garlic, and ginger. It quickly boosts the flavor of the stock in a short amount of time, so you get that slow-cooked flavor without hours on the stove. We also have cooks make a quick stock  from scratch rather than use a pre-made one. That's something I do at home, too. You need to poach the chicken for the soup, and the poaching liquid is essentially a quick chicken stock. 
Which ingredients are necessary to pho?
To me, the herbs and chilis are essential. Traditionally, pho is just a bowl of chicken, noodles, and broth. Then you add herbs like basil or cilantro, and sliced chiles as you go. The idea is that you're adding freshness to the soup a little at a time. That way, the hot broth doesn't cook the herbs, but instead slightly wilts them, releasing their flavor with each bite. 
What did you learn about pho while cooking at a Vietnamese restaurant for so long?
I learned that while Vietnamese cuisine was influenced by the French, the Vietnamese make their broth differently. The French style of making stock often calls for roasting the bones first, but in Vietnam, they blanch the bones in boiling water because they want a stock that's very light in color, but rich in flavor. I also learned that you don't salt water when you cook the noodles before adding them to the soup; it's not like cooking pasta in salty water for Italian food. Instead, you slightly oversalt the  broth—which is why fish sauce is so important. Its salty, briny flavor is essential. Once you add the noodles to the soup, they pull the salt out of the broth and balance the overall flavor. 
Why did you want to make a Sun Basket version of  pho ga?
Honestly, the number one reason is that pho is one of my favorite foods. Our recipe is not what you'd find on the streets of Vietnam, but a quick, at-home version that's really delicious. Our pho recipe is also Heart-Check Certified by the AHA. I don't think people realize that pho is generally a low-calorie option. It's also gluten-free thanks to the rice noodles. Pho is mostly just broth and herbs with a bit of chicken and noodles, which makes it a really healthy choice. 
If you want to spice things up, take a cue from the pho restaurants in Vietnam that serve a spoonful of schmaltz, or chicken fat, on the side to give the soup a layer of richness. Adding a drizzle of a nice neutral oil, ghee, or even chili oil to the finished soup will give the broth that same effect.
After spending so much time cooking Vietnamese food, did you pick up any fun facts about pho?
It's always been fascinating to me that pho is traditionally a breakfast food. The Vietnamese staff at the restaurant ate pho or other soups for breakfast every morning. I didn't understand it until I went to Vietnam. It's already really hot at 7 a.m. there, so it makes sense to start the morning with a lot of liquid and enough salt to help you retain water all day long. I also had no idea that pho restaurants in Vietnam were so specific to a single protein. My favorite pho restaurant there served theirs with tiny river eels. It was so good and so different than what I had come to expect, and I loved it.