Healthy Bowls: Bright New Lunch-o-tunity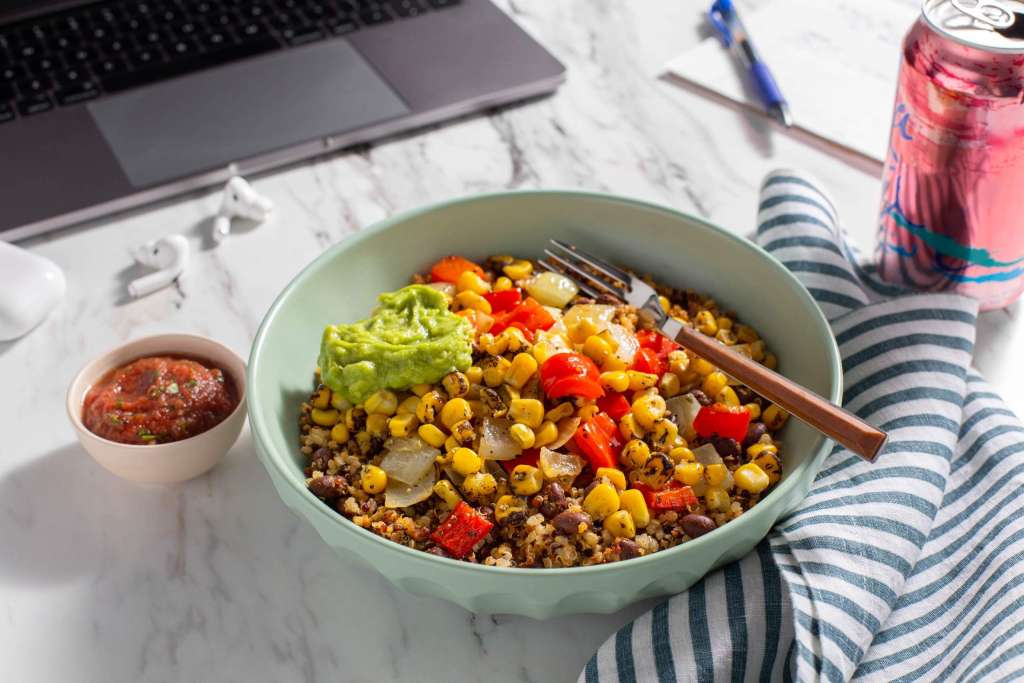 You've probably seen healthy grain bowls on takeout apps or restaurant menus. There's definitely a good reason for their popularity. Bowls are a seriously great solution for filling up at lunch without getting overloaded.
Bowls also have several health benefits. They are a tasty way to incorporate fiber, whole foods, and tons of vegetables into your diet. And the exciting range of textures and flavors available in bowls makes fueling up with the good stuff a pleasure.
Bowls aren't cumbersome like sandwiches or wraps (bye bye to that embarrassing spillage stain before your big meeting), so they're perfect for a working lunch.
Lunch's time to shine
Lunch bowls are a perfect balance of healthy, tasty, and easy to make. Eating a healthy lunch doesn't feel like a chore with bowls. With so many ways to combine healthy ingredients that taste great, lunch bowls are one of the best options for midday meals.
You can prep ingredients over the weekend to toss together quickly during weekday lunches. You can prepare a whole lunch bowl (keeping any dressing separate) the night before. Or you can stock your fridge with ready-to-heat prepared bowls from a meal delivery service. However you get your healthy bowls on the table, you'll be glad you did. They can be much cheaper and faster than takeout. And they're much more exciting than salads, sandwiches, and the usual workweek fare.
Healthy, fresh & good for you
Healthy bowls include all the freshest ingredients out there. Start with quality, energy-boosting carbs, like farro and quinoa, or hearty legumes like garbanzos and black beans. They offer good whole-grain sustenance which processes slowly in the body and releases energy at a consistent rate. No midday, carbo-loaded sugar crash here.
Healthy bowls can be loaded with an endless variety of veggies from roasted root vegetables like sweet potatoes and beets to vitamin-rich greens like kale and collard greens. The beauty of healthy bowls is that they show off the bright and healthy colors of the garden.
Roasted nuts and seeds give healthy bowls a toasty bite and crunch, and high quality lean proteins like eggs and seafood give you energy with real staying power.
Nutrition that doesn't compromise flavor
Healthy lunch bowls help you get the max amount of nutrients in every bite without compromising on flavor. In fact, amazing flavor is the calling card of lunch bowls.
Without buns or wraps, there's nothing hiding all the delicious flavors inside: from Mexican achiote-citrus pork to Asian black rice with beef, mushrooms, and bibimbap sauce. A good sauce can turn your choice of protein on a bed of non-traditional grains into an absurdly delicious lunch.
Healthy bowl recipes
Hungry yet? Here are some of our favorite recipes to get you started:
Healthy bowl delivery service
With a prepared meal service that offers healthy bowls (we're one of them!), you can skip cooking and the time-consuming takeout shuffle altogether and get healthy bowls delivered to your doorstep. Here are just some of the kinds of healthy lunch bowls you can get delivered. They're great to have handy in your fridge, ready to heat and eat:
Ready to dive into deliciousness? Click here to see healthy bowls featured in our Fresh & Ready menu.