Be the Boss of Your Ramen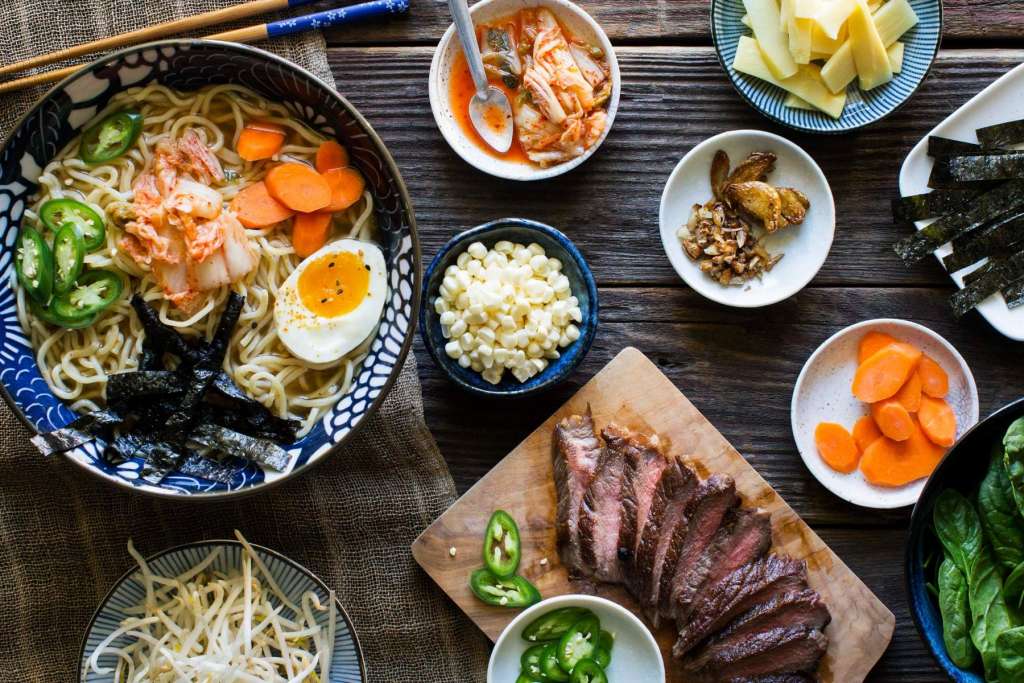 Our Miso Ramen Bowls with Braised Tofu and Bok Choy are loaded with good things like a soft-cooked egg, cilantro, and togarashi, the zippy Japanese seasoning made with sesame seeds, orange zest, and chile. Still, there are times when more is more, so we like to pile on the goodness. Sun Basket's test kitchen assistant Ali Ramee shares a few of her favorite ramen toppings. If you've stocked your pantry according to our suggestions, you should have some of these items on hand, but they can all be easily found at any grocery store or Asian market. 
Bamboo Shoots
Fermented bamboo shoots, menma in Japanese, are a classic ramen addition. They're a nice crunchy contrast to the soft, springy noodles.  
Bean Sprouts
Not traditional, but sprouts go a long way to lightening up the rich miso broth.
Carrots
I love crisp, raw vegetables in a rich ramen broth. Carrots add color and a boost of vitamin K to your bowl. 
Fresh Chilis
Thinly sliced jalepeño and Fresno chilis add a clean kick of heat that you can't get from a squirt of hot sauce. 
Corn
If you think of corn as an all-American summertime, backyard-barbecue favorite, you may not think to add it to your ramen; but millions of Japanese ramen lovers will tell you that you should. Cut the corn off the cob and sprinkle the kernels into your ramen. It's standard practice in ramen shops across the world. 
Fried Garlic
Garlic oil is a standard option in many ramen restaurants. For an easy, at-home option, quickly fry garlic and save the garlic-infused oil for your next bowl of ramen.
Heat oil over medium heat until hot but not smoking. Add peeled whole garlic cloves to the hot oil, cook until the cloves are a deep golden brown, 3 to 5 minutes. Transfer the garlic to a paper towel-lined plate to cool. Chop the cloves, sprinkle on your ramen, and serve. 
Kimchi
The spicy fermented goodness of kimchi adds depth and complexity to ramen broth. Add some of the kimchi liquid to the vegetables for a bolder flavor. 
Nori
Cut nori into strips using kitchen scissors to make an umami-rich garnish for your ramen. 
Sliced meats
Slice and warm leftover steak, chicken, or pork and add it to your bowl. 
Spinach
Our staff dietitians heartily endorse the addition of fresh spinach to your ramen. A handful of the iron-packed leaves wilt in the hot broth and give your meal a boost of flavor and color.