Healthy Meal Planning Ideas for Summer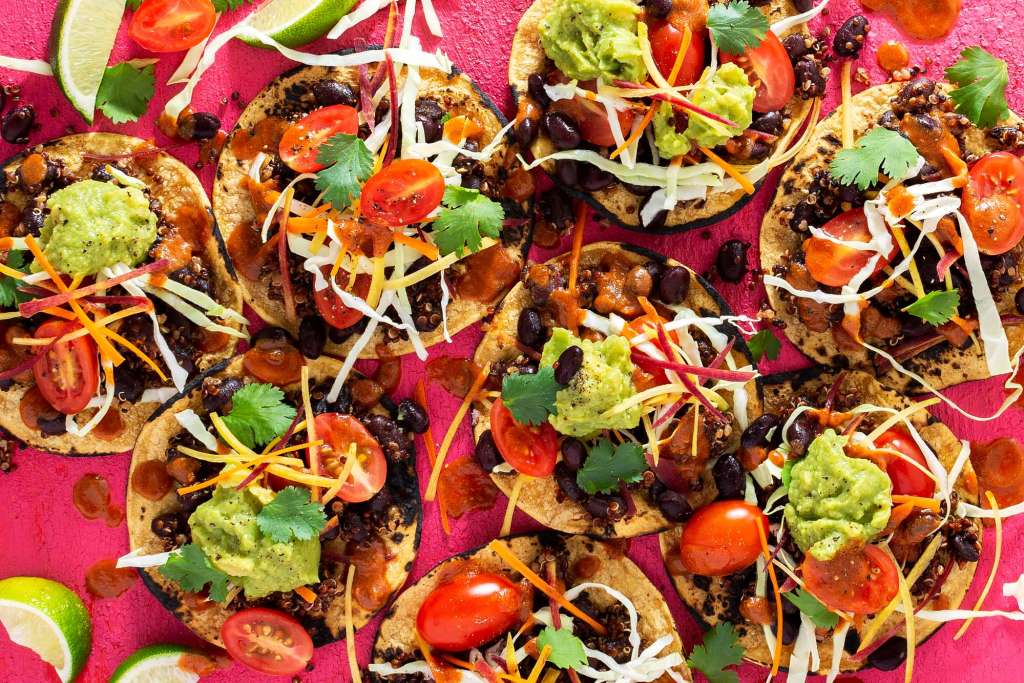 Summer is a time of abundance, with long days leading to more adventures than ever and gorgeous in-season produce begging to be whipped into fresh meals. No need to worry about finding the time to cook. With just a bit of preparation, you can take in all the most glorious moments and still enjoy delicious, healthy meals. Try these summer meal planning ideas to keep you fueled for hikes, beach days, and everything in between.
7 delicious recipes for your summer meal plan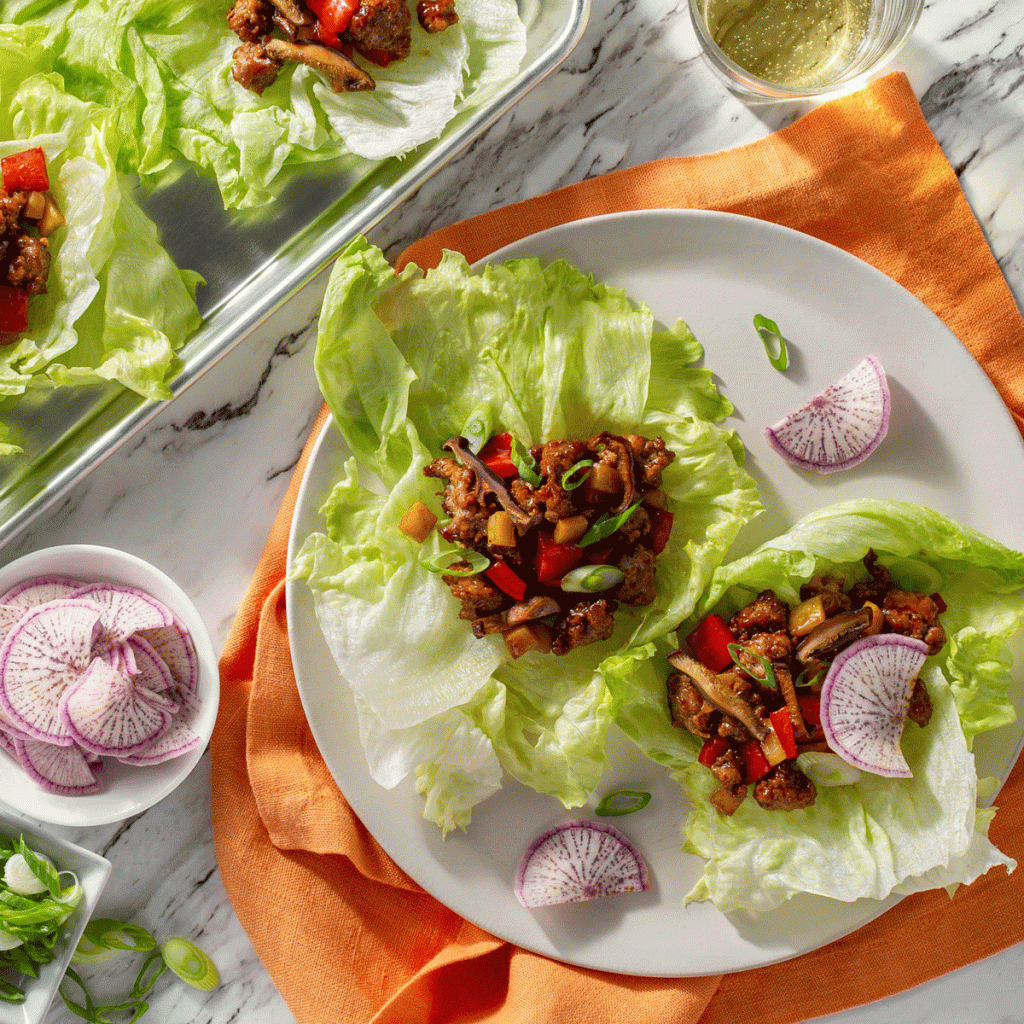 Pork and mushroom lettuce wraps
We could eat these wraps any time of year, but the cool, crisp lettuce is extra satisfying in the summer months as a carrier for seasoned meat and quick-pickled daikon. Prep Time: 20 minutes; Cook Time: 10 minutes.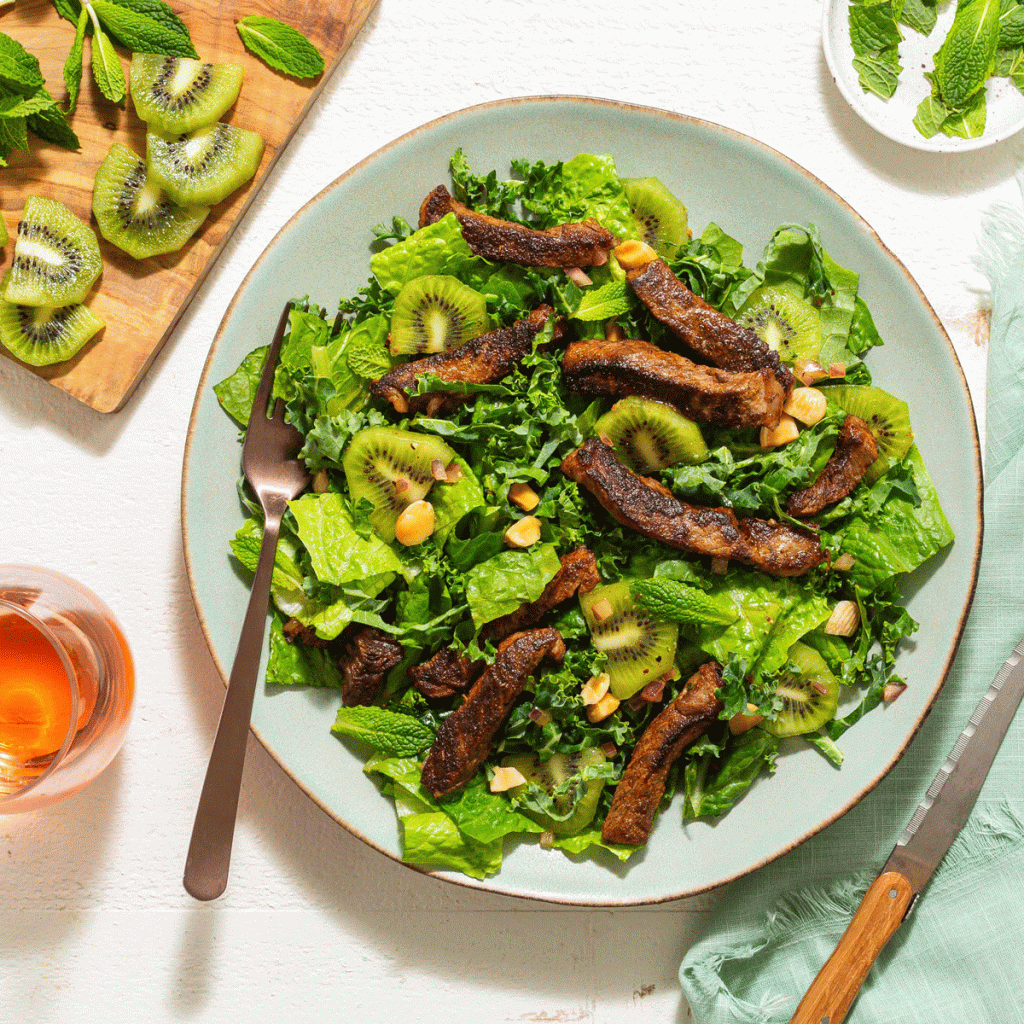 Steak salad with kiwi and mint
Kiwi in a steak salad? Believe it. This bright superfood brings a sweet balance of flavor, while crisp romaine, earthy kale, and buttery Marcona almonds add a parade of texture. Prep Time: 14 minutes; Cook Time: 6 minutes.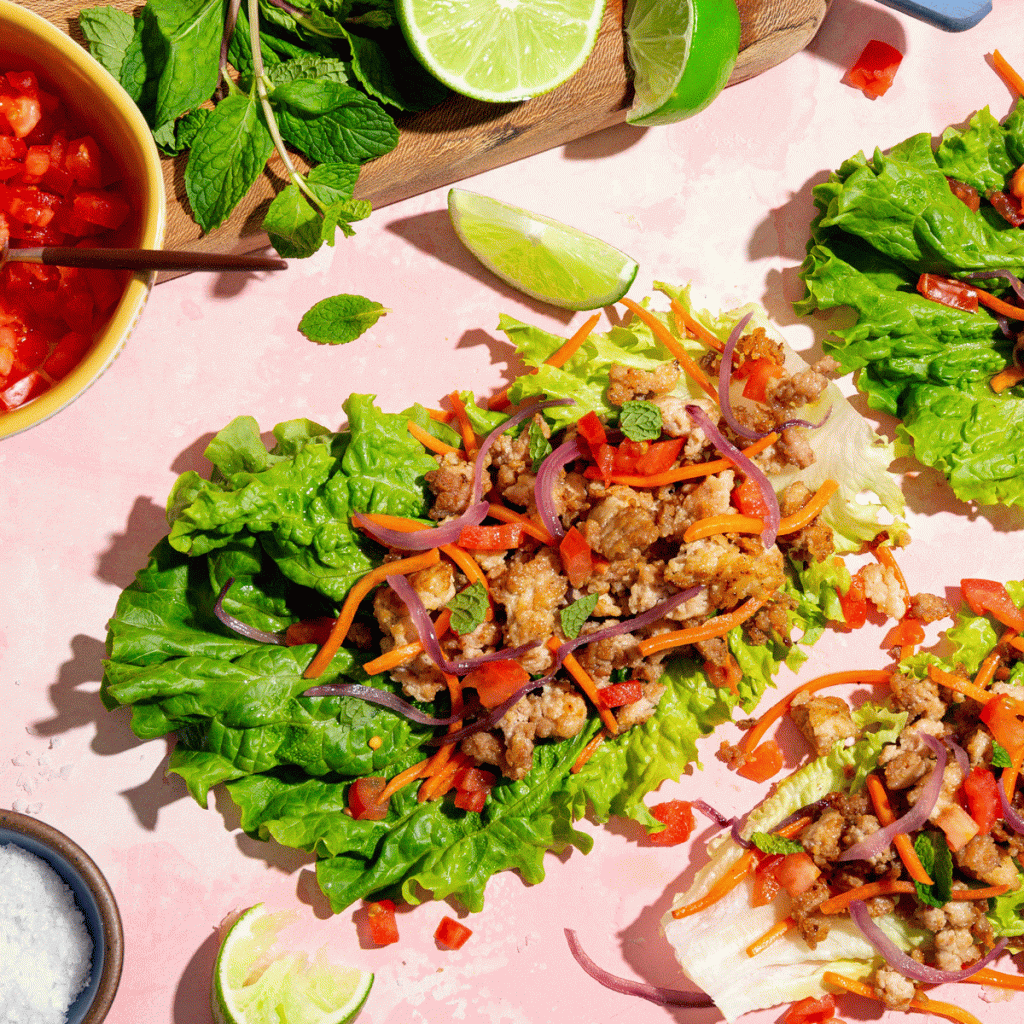 Chicken larb lettuce cups
Chicken larb lettuce cups come together quickly, making this dish the perfect healthy, delicious meal for a busy night. Cut down on your prep time by using shredded carrots. Prep time: 5 minutes; Cook Time: 10 minutes.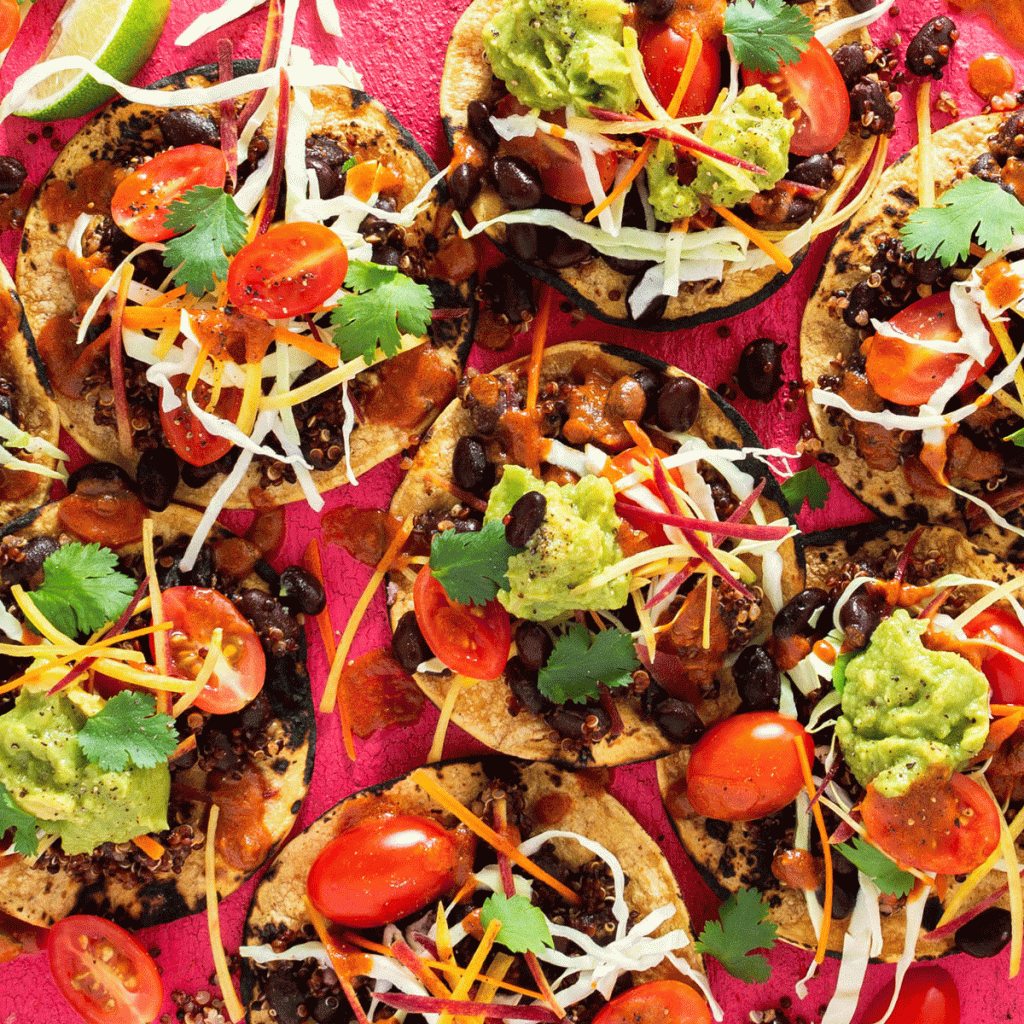 Plant-based tostadas with guac
A spiced simmer sauce is the secret to making the filling so flavorful in these tostadas. They're easy, fresh, and satisfying after a long day at the beach or cycling on the trails. Prep time: 25 minutes; Cook Time: 20 minutes.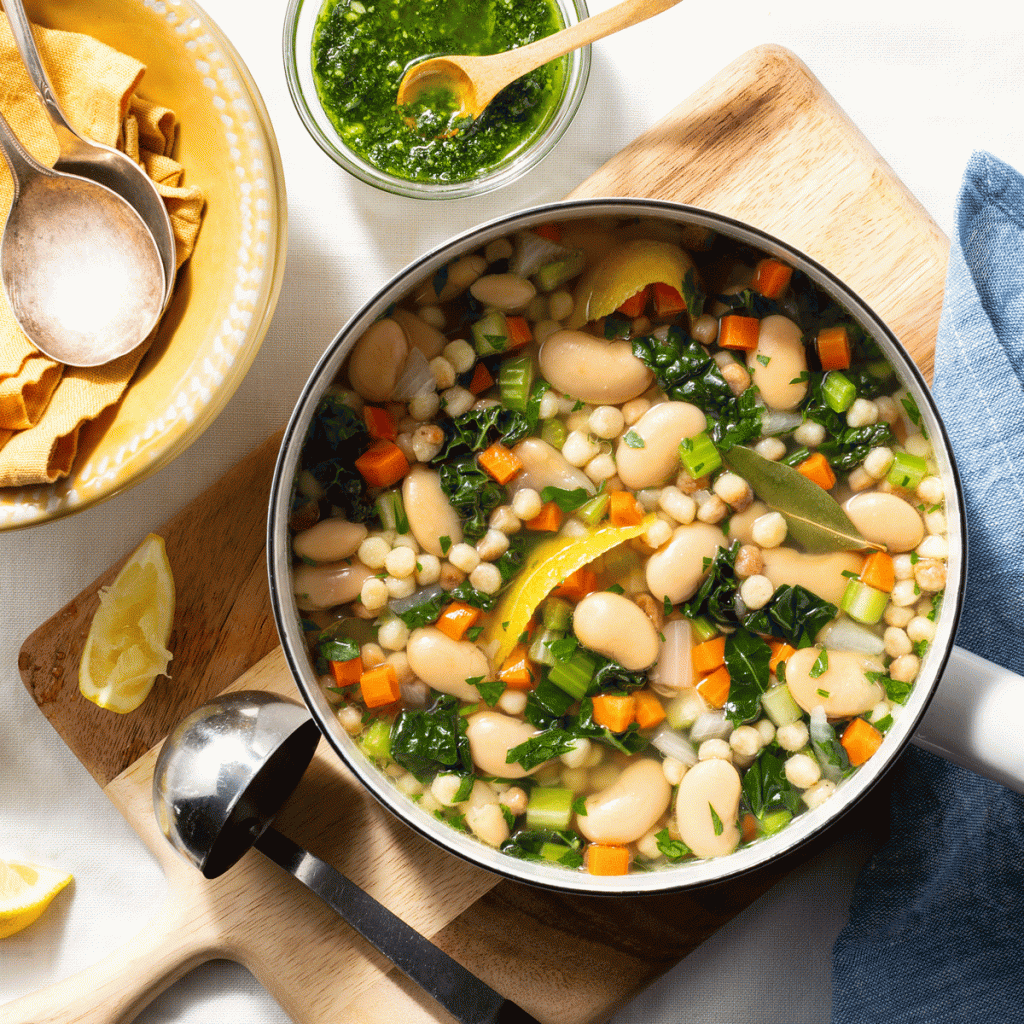 Butter bean fregola en brodo
This light, vegetarian Italian stew with fregola, a toasted Sardinian pasta similar to couscous, is perfect for a cool rainy night. Grated lemon zest adds zing. Prep time: 6 minutes; Cook Time: 14 minutes.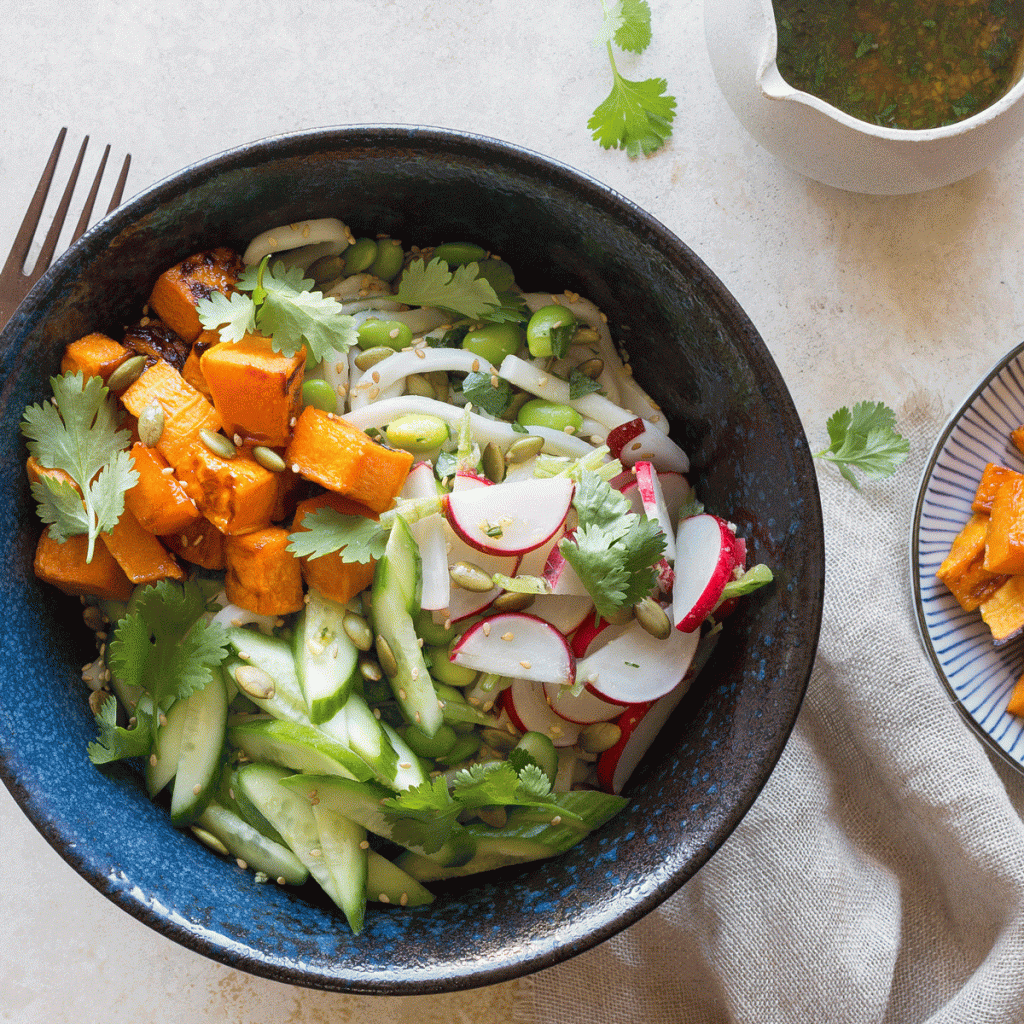 Udon noodle salad with squash
Love udon noodles in broth? Try this udon noodle salad filled with vegetables for a fresh take. Sesame oil, fresh ginger, and rice vinegar really make the fresh radishes pop. Prep time: 15 minutes; Cook Time: 20 minutes.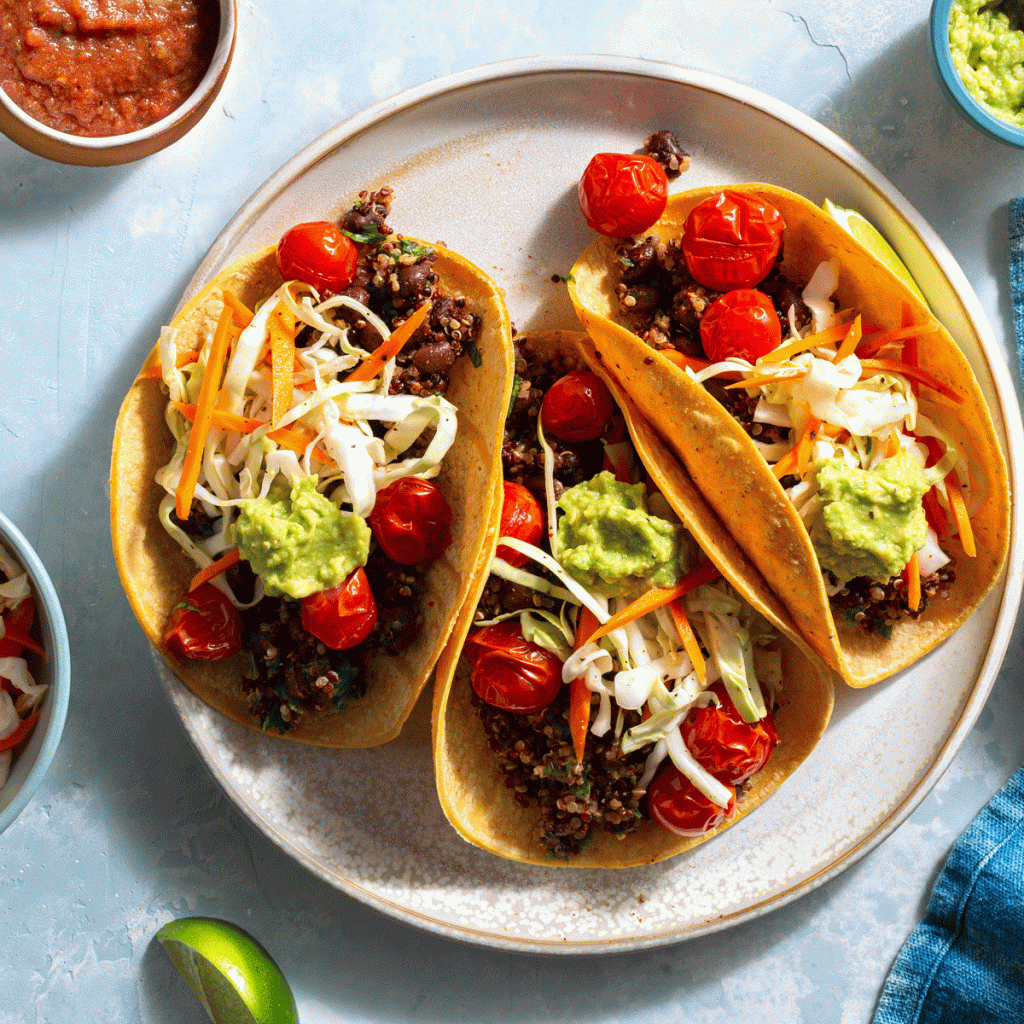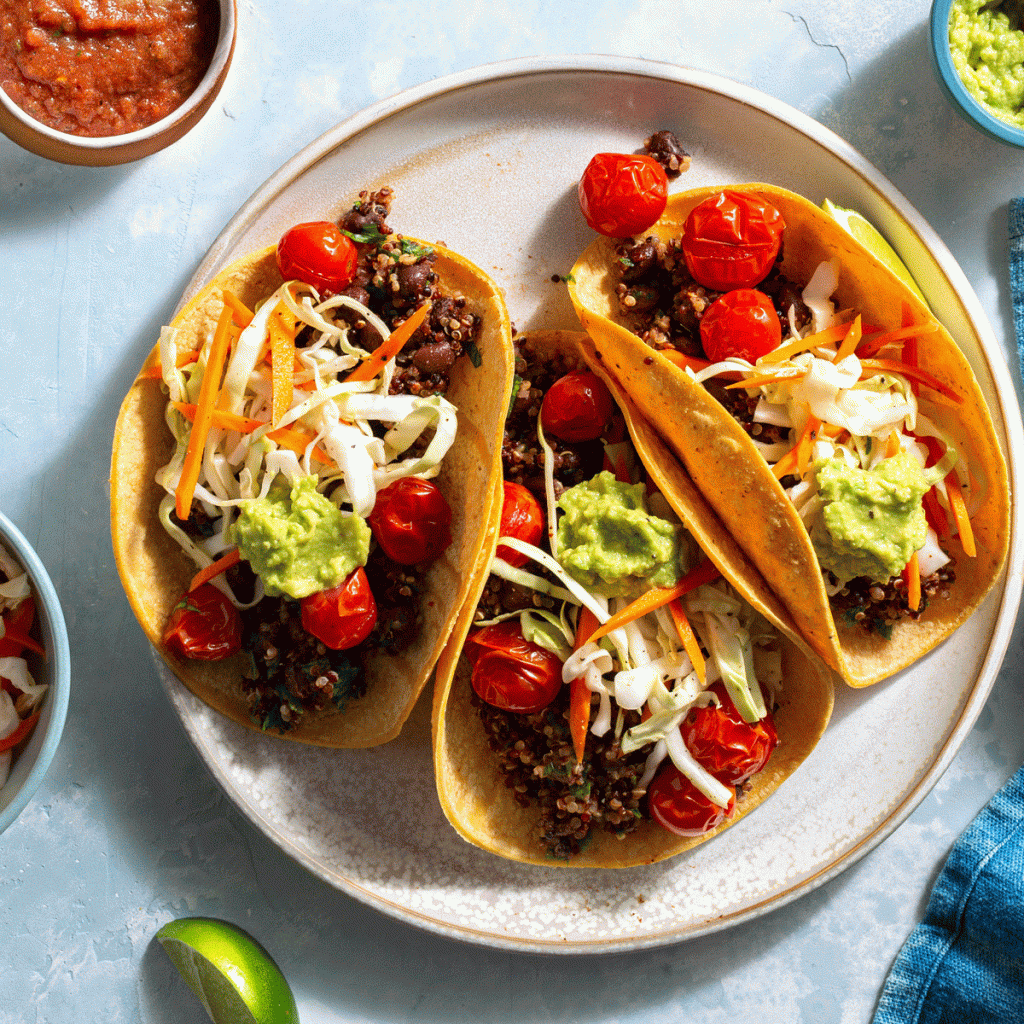 Quinoa-black bean tacos & slaw
Skip the beef tacos this summer in favor of these prepared vegetarian tacos with roasted tomatoes, spiced quinoa, and salsa roja. Just heat up the filling and assemble.  Prep time: 5 minutes; Cook Time: 25 minutes.
Meal planning tips
There are countless meal planning options that will help maximize your free time this summer. Try some of these meal planning tips so your meals come together easily and you can make the most of nice weather.
Freeze food: Freezer meal planning helps to extend summer's bounty beyond Labor Day. You can prepare entire meals to freeze, or simply chop and freeze your favorite ingredients from the farmer's market.
Focus on variety: There's no shortage of foodie inspiration during the summer. Browse your local farmer's market to discover new produce options. By adding variety to your meal planning, you'll stay excited to prepare food at home that's both healthy and delicious.
Dive into pantry staples: Prep for success by stocking your pantry with healthy items that help a meal come together quickly. Organic canned beans, quinoa, and organic fire roasted tomatoes are some of our favorites to always have on hand. Keep a variety of shelf-stable proteins and grains in your pantry in order to enjoy a fast, nutritionally balanced meal.
Choose food with a long shelf life: This meal planning idea helps you avoid food waste while also keeping you ready for a quick meal even if you haven't been to the grocery store all week long. And while you may think long shelf life refers only to canned and dry goods from the pantry, there are actually a lot of fresh ingredients that fall into this category as well, such as cabbage, beets, carrots, apples, radishes, and winter squash.
Remember snacks: Keep healthy snacks on hand so that you can refuel on your own terms, rather than being stuck with whatever the closest convenience store has in stock. Pre-cut your favorite fresh vegetables and keep a supply of your favorite dips on hand, such as guacamole or hummus. You can also easily design your own trail mix featuring your favorite nuts and dried fruit.
Sign up for meal delivery: A home delivery kit is perhaps the best healthy meal planning idea because all of the strategy and shopping is done for you. All that's left is the fun part: putting together a perfectly portioned meal with healthy, delicious ingredients that make eating deliciously fun. Each Sunbasket meal kit serves two, so you can either share a meal with someone or save the leftovers for tomorrow's lunch.
Opt for grab & go options: In addition to meal kits, Sunbasket also delivers Fresh & Ready meals that you reheat in the microwave or oven and serve, simple as that. You can also add market items to your order: grab & go oatmeal cups, gluten-free waffles, egg bites, and more.
The perfect match for a healthy, active lifestyle
The summer months can make life feel busier than ever, whether you prefer to pack your schedule with nature-filled camping trips or relaxing roof-top happy hours. With Sunbasket's meal delivery, you never have to sacrifice healthy eating because you're pressed for time. Enjoy plant-packed dishes that truly celebrate summer's best ingredients while still giving you the flexibility to make the most out of the long, sunny days.